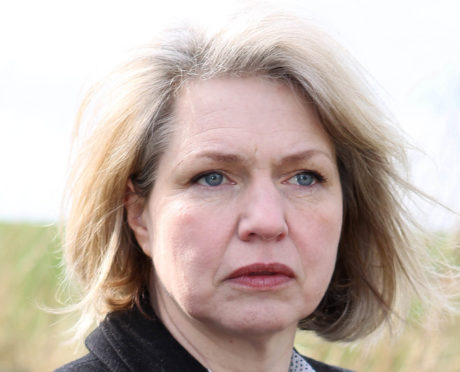 A Fife councillor has been found guilty of breaching the ethical code of conduct for local government.
Conservative councillor Linda Holt failed to declare her interest in a national anti-wind farm pressure group, both in Fife Council's register of interests and before helping to determine a wind turbine planning application.
The East Neuk and Landward member had admitted an "honest mistake" in failing to record previous membership of Scotland Against Spin in the register.
A hearing by the Standards Commission for Scotland on Tuesday found she should have declared her involvement during a meeting of the council's north east planning committee in May 2018 when she unsuccessfully proposed rejection of the wind turbine application.
She was suspended for two months from all committees and sub-committees which make decisions on quasi-judicial or regulatory matters from July 1.
Hearing panel chairman Tricia Stewart said: "The need to register and declare certain interests is a very important part of the councillors' code of conduct as it gives the public confidence that planning decisions are being made entirely on merit and are not influenced by any councillor's own interest in the matter.
"The panel also considered that not only should Councillor Holt have registered her interest in SAS she should also have declared it at the planning meeting and should have taken no part in the discussion and voting on the planning application in question."
Before election to Fife Council in May 2017, Ms Holt campaigned against a wind farm proposed by St Andrews University at Kenly and became spokesperson for Scotland Against Spin, a group born from the action.
She resigned from Scotland Against Spin in October 2016 when she decided to stand as a candidate but continued as an administrator on its Facebook page.
The councillors' code of conduct stipulates that non-financial interests in the year prior must be registered, however Ms Holt said she wrongly believed the period to be six months.
She told the hearing she had no reason to hide her well-known affiliation with Scotland Against Spin, stating: "It's not something I had any motive to hide or interest in hiding, it was a pure oversight and I am very sorry I didn't declare it."
But she claimed it was "ridiculous" she should declare an interest when debating a planning application just because she had a known view on a policy.
She said: "By the same token I would have to declare an interest in virtually every planning application that comes before the north east planning committee."
Ms Holt also claimed it was "very important" that SAS maintained control of its Facebook page and, as its creator, her withdrawal would close it. She said she had continued as a "sleeping administrator" only.