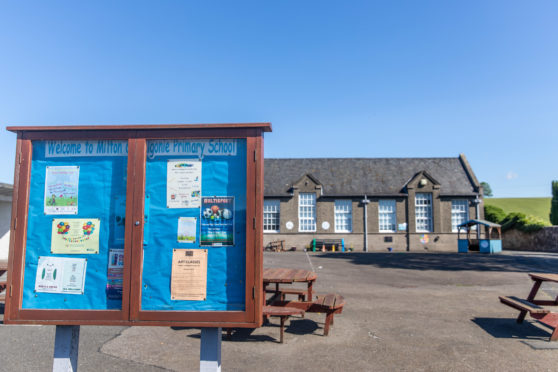 A small Fife school may close for good when children leave for the summer holidays on Friday.
Milton of Balgonie Primary would have had just two pupils if it reopened in August.
Its already diminished roll dwindled from 23 pupils two years ago and Fife Council decided to shut the Main Street school for the time being, transferring pupils to Coaltown of Balgonie Primary School.
The news followed insistence less than a year ago of no plans to close any kingdom schools.
Milton of Balgonie was listed among four Fife primaries well below capacity but parents were assured of comprehensive consultation on any future proposals.
It is the second of the schools to shut since the estate management report was published last August, with Gateside Primary School mothballed in April.
Kevin Funnell, team manager in the council's education service, said: "Milton of Balgonie is a three-class school with a maximum capacity of 75 pupils.
"The roll was expected to fall from 10 pupils this year to just two in August 2019 and those families have agreed to move to other local schools.
"So, while we're not proposing a formal closure of Milton of Balgonie, we'll be mothballing the school this year."
Mothballing instead of formal closure gives the council the option of reopening the building should circumstances change.
Milton and Coaltown of Balgonie community council chairman Andrew Piatkowski said the school was unlikely to reopen unless there was a big influx of families.
He said: "There's not been any big residential development in Milton for a long time, whereas Coaltown has had quite a few developments.
"Unless there is development there's not much prospect of a huge increase in the school roll."
Glenrothes North, Leslie and Markinch councillor Jan Wincott said: "It is a shame because this is a small village and schools are really important for communities but in today's context they would be keeping open a school for two children when it is meant for up to 75.
"I really feel for the parents of the children affected but the most important thing is that children get the right education in the right place with the right number of teachers and that they are fully supported."
Milton of Balgonie Primary School is just four years short of its 200th anniversary.
Its accommodation was deemed satisfactory in the estate management report but its accessibility received the lowest rating.
Other schools which were well under capacity were Culross and Kingsbarns.