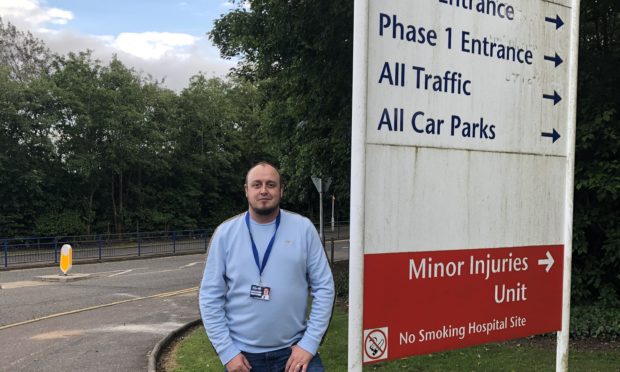 A Dunfermline politician is campaigning to have A&E services reinstated at the town's hospital.
Since 2012, west Fifers have had to travel to the A&E unit in Kirkcaldy, often bypassing the door of QMH.
A recent incident, during which a motorist was taken to Kirkcaldy's Victoria Hospital after falling ill at the wheel while on the main road running past Dunfermline's Queen Margaret, had prompted the fresh plea.
Conservative councillor Gavin Ellis said with a huge rise in the town's population the time had come to look again at having emergency services on the doorstep in west Fife.
The controversial decision to transfer all emergency and inpatient services to the Vic came in 2002, after public consultation, as part of the Right for Fife strategy.
Mr Ellis, who is writing to health secretary Jeane Freeman, said there had been such an increase in housing and population across west and central Fife it has left services, such as GPs and education, struggling.
"I, like many other residents, feel the time is right to have another look at the A&E facility at Queen Margaret.
"I don't think this is good enough anymore and neither do many residents.
"The Victoria cannot continue to carry the burden alone.
"All I am asking for is a review that takes our future growth on board and that all scenarios will be looked at regarding future health provision."
NHS Fife chief executive Paul Hawkins said by locating services centrally, it could "continue to provide a high standard of care and improve patient safety at both Victoria Hospital and Queen Margaret Hospital by using our buildings and staff in the best way possible".
"The vision for Queen Margaret Hospital was to create an ambulatory treatment and diagnostic centre for Fife residents at the heart of the community and since the move in 2012 the hospital has gone from strength to strength."
He cited recent developments, including the opening of Fife's first community hub with services focused on frail patients.
There is also a team providing a rapid response service and rapid access clinic.
Last month out of hours emergency GP services at the Dunfermline hospital were saved.
"Queen Margaret Hospital continues to provide planned acute services including outpatients, day case surgery, cancer services including oncology and a nurse-led minor injuries unit, all of which clearly demonstrate our ongoing commitment to the provision of acute services in Dunfermline," he added.
A Scottish Government spokeswoman said: "Victoria Hospital has successfully hosted A&E services for the last seven years.
"Health boards and integration authorities understand our clear expectation that they must ensure their emergency care provision best meets the needs of the people in their area.
"NHS Fife has been repeatedly clear of its ongoing commitment to the provision of acute services in Dunfermline."