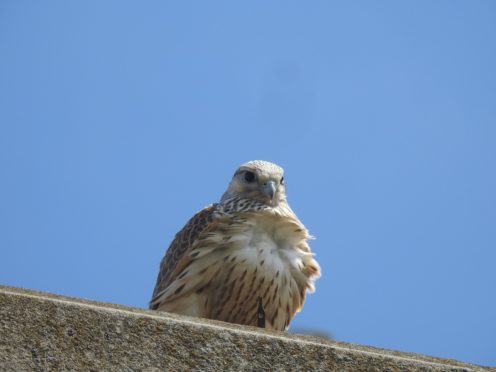 An escaped falcon ruffled feathers when it joined the masses of seabirds on a Forth island reserve.
The bird, thought to belong to a falconer, was spotted on the Isle of May on Wednesday morning.
One puffin on the island had a narrow escape when the foreign visitor attempted to make it lunch.
Scottish Natural Heritage reserve manager David Steel appealed on social media for help in identifying where the falcon, believed to be a saker, had come from.
Wow! An escaped falconers bird on isle of May this morning. Calling! Any suggestions of parents? Photo by @CiaranH13 pic.twitter.com/S8T4ZIItA9

— David Steel (@SteelySeabirder) July 24, 2019
The bird had bells and jesses, thin leather straps used to tether captive birds-of-prey.
David said: "The bird arrived yesterday (Wednesday) morning and remained on the island for the day.
"It was clearly an escaped falconer's bird, although despite this it was seen twice to attempt to hunt puffins, hitting one of them.
"Thankfully the puffin escaped!"
The Isle of May is home to around 200,000 seabirds at the height of the breeding season and is noted for its abundance of puffins.