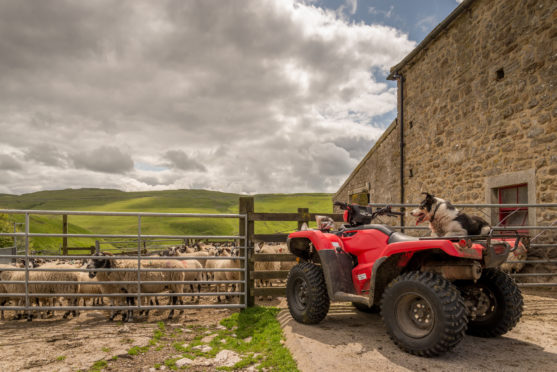 A farmer fears "no-go" zones leave rural crime unchallenged after police failed to go to a caravan park where he believed his stolen quad bike was.
Following a theft at his Howe of Fife farm the farmer carried out his own detective work and found what he was certain was the £4,000 machine at a travellers' site.
He presented a drone photograph, apparently of the vehicle, to police but officers initially refused to attend the site to investigate, he said. By the time they did go eight weeks later, the bike was gone.
Police apologised for falling short of standards expected but strongly dismissed the suggestion there were parts of Fife deemed out-of-limits for officers.
The farmer, who did not want to be named for fear of retribution from the thieves, said: "The quad was sitting in this area and we had a picture of it but the police wouldn't do anything about it.
"It's shocking, absolutely shocking, and it makes you wonder if there are areas the police just won't go. That concerns me. What else could be going on there?"
He also claimed rural crime was not being tackled, with machinery and fuel stolen on a regular basis.
Earlier this year NFU Scotland's chairman warned the region had become the rural crime capital of Scotland, fearing tractor thefts could escalate to violence if farmers confronted criminal gangs in the act.
The farmer said: "The police are not taking rural crime seriously and have even gone as far as to tell us to just claim off the insurance as that is what it is there for."
He bought a replacement quad bike and was reimbursed by his insurer but said he remained £2,000 out of pocket.
Police upheld a complaint made by the farmer, admitting the standard of protective work had "fallen short of expectations" but refused to compensate him for his loss.
East Fife area commander Chief Inspector Steven Hamilton said: "By virtue of their very isolated nature rural crime investigations can be very challenging.
"There are numerous steps that those living in isolated areas can take to minimise the risk to their property. Good security is essential and is an effective deterrent against crime.
"To suggest that there are 'no go' areas for the police in Fife is simply mischievous and misleading.
"The prevention and detection of all crime is treated as a priority in Fife and I would like to take this opportunity to reassure the public that where crime is reported there is no area of the Kingdom where we will not go in the pursuit of offenders."