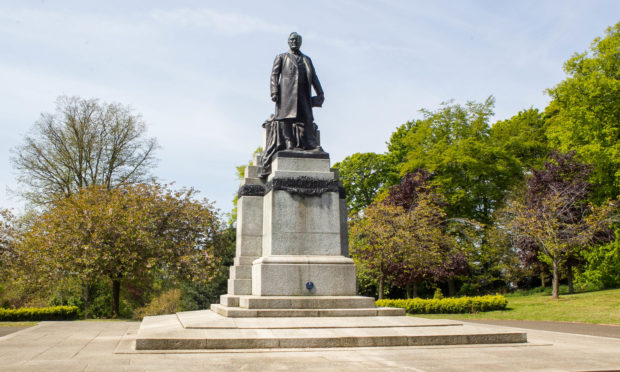 A priceless Tiffany window is finally to be installed in Dunfermline Abbey, in the centenary of Andrew Carnegie's death.
The Dunfermline-born philanthropist commissioned the window in 1913 from the renowned New York firm of Tiffany Studios in memory of his parents William and Margaret and his siblings Thomas and Ann.
It was always the steel magnate's ambition for it to be placed in Dunfermline Abbey.
However, the arched window, depicting a lush landscape of trees and hills, was deemed too secular for the historic abbey.
Since then it has moved around Dunfermline and languished in storage for many years.
It was housed high in the auditorium of the Carnegie Hall but was covered by a heavy curtain.
When an extension was built at the theatre it was moved to the lounge, named Tiffany's in its honour.
Following restoration the fragile window was moved to the new HQ of the Carnegie Trusts when it opened in Pittencrieff Park.

A century after Carnegie's death it will finally be dedicated, in front of an international congregation including the philanthropist's descendants, in the Abbey Church.
The window has recently undergone extensive restoration work and its specially-designed accessible location will be the focus of a new contemplative space.
The Rev MaryAnn Rennie said: "The congregation of the Abbey Church of Dunfermline are delighted to offer a new home for a gift to the people of Dunfermline given in memory of Andrew Carnegie's parents.
"The Tiffany window will take its place in the midst of other significant Scottish stained glass work and its positioning within the church building will offer a new space for reflection."
The window dedication ceremony will take place on August 12, a day after a noon wreath laying ceremony in Pittencrieff Park on the actual centenary of Carnegie's death.
He gifted the Glen to the people of Dunfermline and an imposing statue of the benefactor was erected by public subscription in 1914.
After the wreath-laying a free guided walk will be on offer finishing at the Carnegie Birthplace Museum.
Carnegie Dunfermline Trust chairman Ian Wilson said: "As custodians of Pittencrieff Park, the Andrew Carnegie Birthplace Museum, and former keepers of the Tiffany window, the trustees are proud to see such a major occasion for us marked in this way.
"To fulfil Carnegie's own wishes on this anniversary provides the opportunity to reflect on what has been achieved with his legacy over the last hundred years, and to look forward to the achievements of the next."
The public is welcome at the August 11 wreath laying ceremony.
They can join the window dedication ceremony but places are limited and can be booked at www.dunfermlineabbey.com or by visiting the Abbey Church shop.