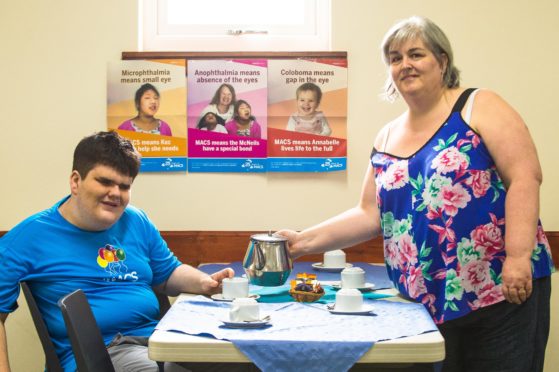 A Glenrothes teenager is raising money for a charity which has boosted his confidence and helped him live life to the max.
Joe Carberry, 17, is blind and has autism but is thriving thanks to his recent schooling and support from the MACS (Microphthalmia, Anophthalmia and Coloboma Support) charity.
He is raising funds for the charity by holding a coffee morning at Christ's Kirk in Pitcoudie Avenue, Glenrothes, from 10am to noon on Saturday.
The charity hosts events and provides support for children born without eyes, or with eyes that are underdeveloped, and their families.
Joe's mum Michelle said: "They have events where you meet up with other families in Scotland.
"They also have an AGM every May bank holiday weekend. It's mostly about emotional support. Everybody is in the same boat and you can speak to each other because people are going through the same kind of thing. The children mix together and know they're not on their own.
"Joe's gone away to do things like canoeing and abseiling. It's a confidence-booster.
"They also have activities for siblings. My daughter has been away sailing with them. She has been helping out, and has been paired up with another girl who is blind.
"It's the charity's 25th anniversary this year. It was founded by a group of parents and has grown over the years. We wanted to raise awareness of what they do by holding a wee coffee morning."
In 2016, people rallied round to help Joe after a specialised trike that was made for him was stolen from the Castle Furniture Project in Cupar.
He was gifted a replacement after Kingdom Kids teamed up with Leslie Bike Shop and specialist firm Mission Cycles.
Joe was said to be "over the moon" with the trike, which allowed him to get out and about like other youngsters.
Michelle said Joe was recently given a further boost when he started at The Royal Blind School in Edinburgh.
"He's loving it," said Michelle.
"He used to refuse to go to school. He didn't go to school for a whole year.
"The difference in him is amazing since he went there. He's more active and gaining independent living skills. He's also academically coming on leaps and bounds."
Joe recently sat a National Five German exam and is awaiting his results.
Michelle added: "To be able to sit an external exam is an amazing accomplishment for Joe."