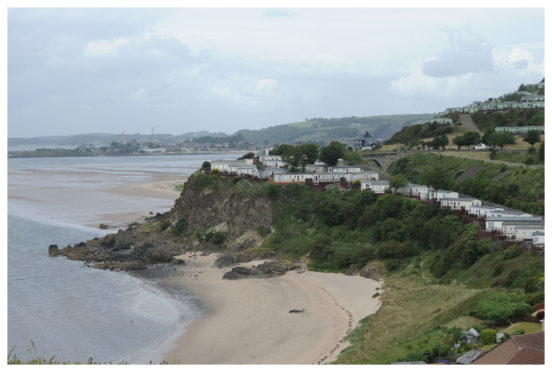 Fears have been raised Fife's beaches are being targeted by criminal gangs looking to capitalise on the illicit and highly-lucrative trade in shellfish.
The Courier understands shellfish rustling incidents are again on the rise locally despite a previous concerted campaign by Police Scotland, the Gangmaster and Labour Authority (GLAA) and immigration enforcement to identify individuals flouting the law along Fife's coast.
There are now real concerns that the harvesting of cockles, clams and oysters from parts of the kingdom's shoreline, particularly where water quality has fallen as result of recent rain, could put people's health at risk if the products find their way into the food chain.
The Scottish Environment Protection Agency (SEPA) has been looking into reports that a bait digger – which goes looking for lugworm, ragworm, sand worm or razor shell fish – had recently spotted on the radiation-contaminated beach at Dalgety Bay, with Food Standards Scotland advised of the situation.
Local man David Shields also reported a large number of people taking clams from the shore at Pettycur Bay near Kinghorn recently, amid protests from a small number of locals.
Those responsible appeared to be of Asian descent, and had disappeared by the time authorities arrived.
"I came across a cluster of local people who were obviously very agitated, but it didn't seem like they could do much about it," Mr Shields said of the incident which happened a week past Sunday.
"I did see a police car at the harbour later on but all or most of the clam diggers had gone because the tide was on the turn at that point.
"It's obviously an issue that needs to be resolved."
To make matters worse, it has also been suggested that the razor clam diggers were using table salt to bring the clams to the surface – as they are extremely sensitive to salinity.
Collecting more than 30 razor clams per person, per day is illegal, and harvesting razor clams can impact on their populations and damage the coastal ecosystem.
Although the joint agency campaign last summer resulted in officials not observing any offences during the operation, the renewed presence of gangs on the beaches this summer has sparked fears potentially contaminated seafood could find its way on to dinner plates across the UK and beyond.
Constable Lindsay Kerr, wildlife and environmental crime officer for Fife, said: "There are a number of concerns with the illegal collection of razor clams, given its increased links to organised crime groups nationally.
"Our objective is to identify who is involved and why, as well as establishing the wellbeing of those collecting the razor clams and who is tasking them with doing so.
"We will continue to work closely with our partners to investigate this matter and anyone with information should contact us immediately."
Anyone with information can contact police in Fife via 101 or make an anonymous report to the charity Crimestoppers on 0800 555 111.