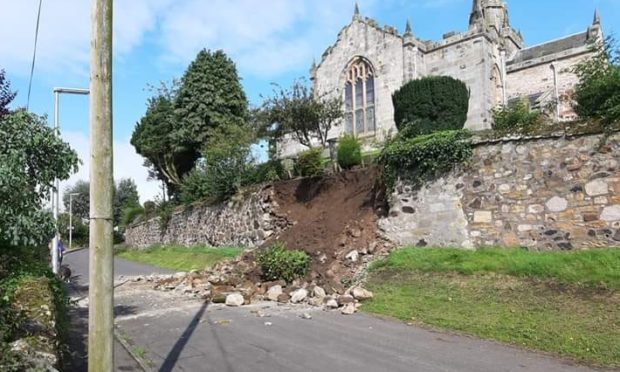 Human bones have been cleared from Upper Largo after severe weather washed them from a graveyard on to the street.
Heavy rain caused a boundary wall at Largo and Newburn Parish Church collapse on Saturday, disturbing a number of ancient graves with debris blocking the road below.
Fife Council assisted the church in the process of retrieving the bones and making the area safe.
Liz Murphy, head of bereavement services at Fife Council, said: "Unfortunately, some historic graves were disturbed and exposed.
"In order to preserve the dignity of the deceased, where safe, the remains have been moved into the church.
"Any exposed ancient lairs are covered until it is safe to restore or rebury them."
The incident was just one of many across the kingdom as Fifers continue to get back to normal after torrential rain caused yet more flooding.
Council teams have been out in force targeting areas still affected as they battle to get roads back open.
Service manager Bill Liddle said: "Any locations where we had standing water will be revisited and gullies cleaned.
"We have a couple of locations still with standing water and minor roads are closed, so we'll be working in these areas to get them open.
"We'll also be replenishing our sandbag stock and retrieving any flood signs that are no longer required."
However, a number of Fife beaches remain off limits to the public because of the ongoing threat of pollution.
The precaution was taken at beaches, including Aberdour's Black Sands, following flooding earlier this week which resulted in Scottish Water opening valves to release pressure thus allowing untreated waste into the Forth.
Fife Coastal and Countryside Trust indicated that although the no pollutants had been found at Aberdour, because the beach had award winning status and was regularly used by swimmers,there remains a risk so swimming should still be avoided.
It's understood that the precautions will not affect Black Sands' Blue Flag status for high environmental and quality standards.
A number of beaches the Fife coast are expected to remain off limits for several days.
Lisa McCann, the council's environmental health service manager said: "We're monitoring Fife's beaches alongside Fife Coast and Countryside Trust, and working with SEPA, following their guidance on water quality.
"Conditions are poor around the country following the torrential rain which caused storm drains to overflow.
"We'll keep warning signs up until SEPA are satisfied with water samples around the coast."
Elsewhere, roads bosses have blamed "exceptional rainfall" for the flooding in Angus which led to the closure of the busy A92 at the weekend.
And the latest deluge to batter Broughty Ferry has raised fears that drainage infrastructure is not fit for purpose.
The Ferry saw some extensive flooding, with Forthill Road and Cedar Road among the worst hit.
In Perthshire, the council carried out "normal, planned, routine road inspection programme".