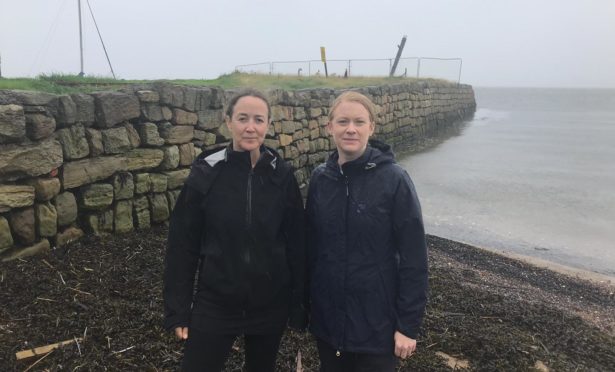 The UK government has been urged to intervene after an investigation failed to determine the source of a Forth oil spill.
Fife taxpayers footed the £600,000 clean-up bill after a major leak affected the shore at Limekilns and Charlestown in February.
As Fife Council investigates a second oil spill along the coast at North Queensferry, MSP Shirley-Anne Somerville said it was outrageous that the earlier probe had been allowed to grind to a halt.
Both environment agency Sepa and the Marine and Coastguard Agency wound up their probe without the source being identified.
Dunfermline and West Fife SNP member Ms Somerville said: "When an environmental incident like this occurs, its only right that those who are responsible cover the costs of the clean-up.
"And it's certainly not right that Fife tax payers are having to pick up the bill.
"If we are to prevent incidents like this from occurring in future, we need to make it clear that polluters will be held to account.
"So, it beggars belief that the MCA is yet to provide any details of what is being done to identify who the culprit is here.
"The UK government needs to take responsibility and step in to make sure that this case is being properly investigated."
Jo McFarlane, of Charlestown, Limekilns and Pattiesmuir Nature Conservation Group, backed the call for action.
She said: "We are left frustrated that someone can cause environmental damage and pollution, take no responsibility, cost taxpayers hundreds of thousands of pounds and escape all prosecution."
The MCA said it is no longer looking into the incident which saw beaches at Limekilns and Charlestown closed for several weeks as 500 tonnes of waste was removed.
Derek Crowe, the council's roads and transportation senior manger, said the MCA, Forth Ports and Sepa had carried out extensive investigations but found no evidence the oil originated either from the water or land-based contamination.
He said: "This is an unusual position.
"We're as unhappy as our local taxpayers about footing the bill to clean up someone else's pollution with public money, particularly when our service budgets are so stretched already.
"However, as the party responsible can't be identified we simply have no choice."
A spokeswoman for the government's Department for Transport fT spokesperson said: "The DfT is confident in the actions that the MCA carried out regarding the oil spill.
"We will continue to support its work with other authorities to identify the cause of the spill."
It is hoped the cause of the North Queensferry slick, confined to the area between Queensferry Crossing and Forth Road Bridge, will be confirmed by Sepa in the coming weeks.
A clean-up operation is expected to continue into next week, with no signs of detriment to local wildlife.