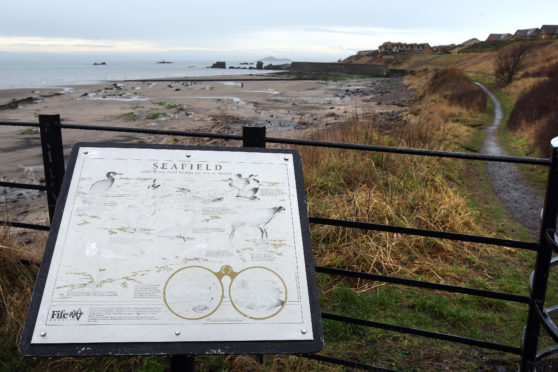 A section of the Fife Coastal Path has been closed after recent heavy rainfall caused the ground to be unstable.
The Fife Coast and Countryside Trust, which maintains the long distance footpath from Kincardine to Newburgh, confirmed that a stretch between Seafield beach at Kirkcaldy and Kinghorn had been shut for the foreseeable future "due to serious risk of landslide".
As the route runs close to the main east coast railway Network Rail sent engineers to investigate but confirmed there was no danger to the line.
The area, like many on the east coast in recent weeks, has been hit by unseasonal amounts of rainfall which appears to have taken its toll on the landscape.
The 117-mile route is popular among locals and tourists alike, running from the Firth of Forth in the south to the Tay in the north through many picturesque towns and villages.
About 500,000 people use the path every year, and it is estminated that about 35,000 walk the entire route.
Local woman Sharon Allison said: "We walked along it yesterday with my friend and our boys, and did notice the ground movement at one area.
"We took care walking over it, but nothing to say it wasn't safe. There were quite a few people walking along it."
Another walker said it "looked like there had been an earthquake", with large cracks seen over a lengthy area of the route.
Fife Coast and Countryside Trust said it had been notified of the problems late on Wednesday night.
Signs have been erected warning people to stay away from a section adjacent to Linton Court and walkers have been told to use the pavement along the A921 instead.
A statement issued on Thursday morning said: "Due to a landslide caused by the recent inclement weather the Fife Coastal Path shall have a diversion in operation between Kirkcaldy Seafield beach and Kinghorn that follows the path on the A921.
"Staff are working to reopen the path but at this time we are unable to say how long the path shall be closed for."