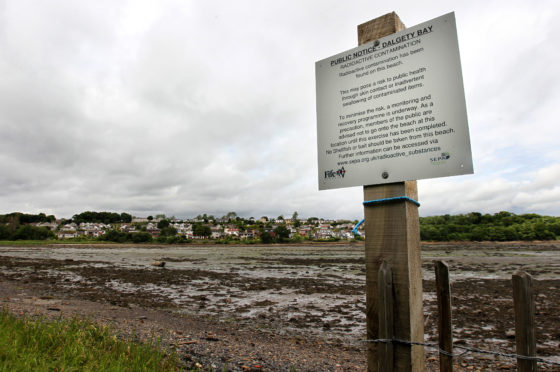 Tenders have been submitted for the project to clear up radiation pollution at Dalgety Bay.
Details about the bids, including potential costs, have not yet been revealed because of commercial sensitivity, although hopes are high remediation work will finally begin in 2020 after years of wrangling.
Radioactive material was first detected on a part of the foreshore in 1990, and members of the public have been urged to follow the advice on signs at the site ever since.
That means they should not remove anything from the beach and wash their hands upon leaving the area – and that advice remains in place for the foreseeable future.
Stephen Ritchie, of the Ministry of Defence (MoD) updated south and west Fife area committee on the clean up this week, saying the submission of tenders meant the project is on track to start on the target date of April 1 next year.
Mr Ritchie said: "Tenders are back from potential bidders and we are evaluating them at the moment, and we are continuing to work towards the target date set.
"Until we can award the contract, we can't tell you anything about the content."
Initially, the MoD said it expected work to remove and contain radioactive particles at the shore near Dalgety Bay Sailing Club to be completed by 2018.
But the UK Government took longer than expected to give the plans final approval.
When the committee met last year, Labour councillor Bobby Clelland blamed Brexit for the delay, adding: "I think every government department is focused on Brexit."
The remediation work, which will include removing some of the contaminated debris and containing the rest by building a wall and new slipway, is now expected to be finished in September 2021.
Radioactive particles were first discovered at the headland near Dalgety Bay Sailing Club in 1990.
The particles were found to contain radium-226 which was in paint used to make aircraft dials luminous.
Studies of the coastline suggest incinerated radioactive waste was dumped prior to 1959, when the nearby airbase HMS Merlin was decommissioned.
After years of refusing to accept liability, the MoD was named as the polluter by the Scottish Environment Protection Agency (Sepa) more than two decades after the radiation was found.
Committee convener Alice McGarry raised concerns that heavy rain could have dispersed the radioactive contamination further.
Nine Patton of Sepa said a drone survey of the coastline would be carried out this autumn.
She added: "We haven't had any monitoring since before the recess, but we may look at that given recent weather."