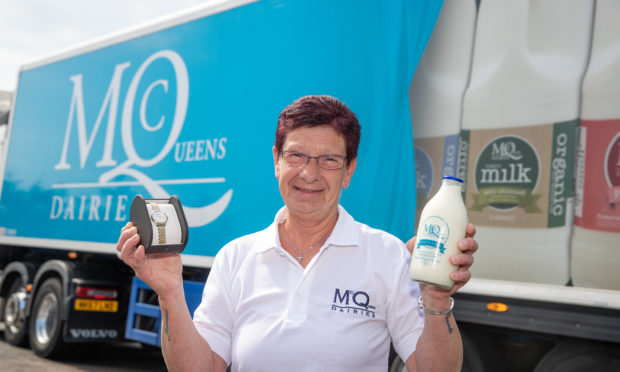 A milk lady has proved her bottle for delivering a morning pint, after racking up four decades of daily rounds.
Davina Bruce has ensured Kirkcaldy folk get their doorstep delivery in a career spanned 40 years.
It's a far cry from her days as a youngster helping her father in St Andrews for extra pocket money.
She said: "Back then, children were allowed to go on the round I used to help my father for a bit of cash – you could say milk runs in the family.
"My dad actually had two rounds, a morning delivery and a night round so there was always plenty of opportunity to earn, if you were prepared to put in the graft.
"When my children were young I joined the Wiseman company from Cupar, as it was back then, delivering part-time. Over the years that's grown into a 40-year career."
She is now employed by Kirkcaldy-based McQueen Dairies, ensuring Lang Toun folk get their daily pint for the last 18 years, and the company has declared Davina their Woman of the Year.
While most are tucked up in bed, Davina aims to have the first bottles on the doorsteps by midnight, before ending back to the depot at around 6.30am.
She said: "It's not always fun on those cold, dark winter nights but after all the years I'm used to those now and you can't beat being out in the fresh air on those early spring and summer mornings when the sun's coming up, that's the best bit of the job as far as I'm   concerned."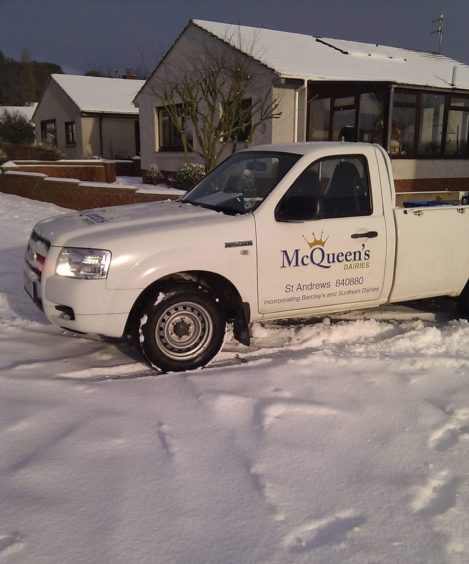 Milk flows through three generations of the family, with son Bob also a milkman for McQueen Dairies, while daughter Kate has also spent several spells on the rounds.
There is no prospect of Davina slowing. With a huge increase in demand for glass bottle delivery, she said it's a bit like the old days again.
The clink of glass bottles on the doorstep was an experience that seemed consigned to the history books – the once-ubiquitous rounds replaced by supermarkets selling cheap milk as a loss leader.
In 1975, 94% of milk purchased was to the door. By 2016 that had fallen to just 3%.
Milk delivery companies like McQueen Dairies have seen a surge in demand from a public wanting to be more environmentally friendly and reduce their reliance on single-use plastics.
Mick McQueen, owner of McQueen Dairies, which employs more than 400 people and in depots across Scotland and north west England, said: "Just 12 months ago, we delivered 18,000 glass bottles per week, a fraction of what we deliver as a whole.
"Since then, that figure has risen to 78,000 a week, a phenomenal rise, and there's no sign of it slowing down.
"That's down to the desire of our customers who want to be more environmentally-friendly."
While she understands and supports the drive, the change delivers a downside for Davina.
She laughed: "When it was plastic bottles with the handles I'd easily get four or five in each hand, but with glass it's a whole different story.
"It's like milk delivery has come round full circle.
"I'll retire at some point but not yet, with the demand for glass booming, I've too much milk to deliver to pack it in just yet."
To celebrate her 60th birthday, Mick and co-owner Megan McQueen made a  visit to the Kirkcaldy depot to present Davina with a watch.
Mick said: "She's a shining example, and a model employee, never a day off and our customers lover her to bits."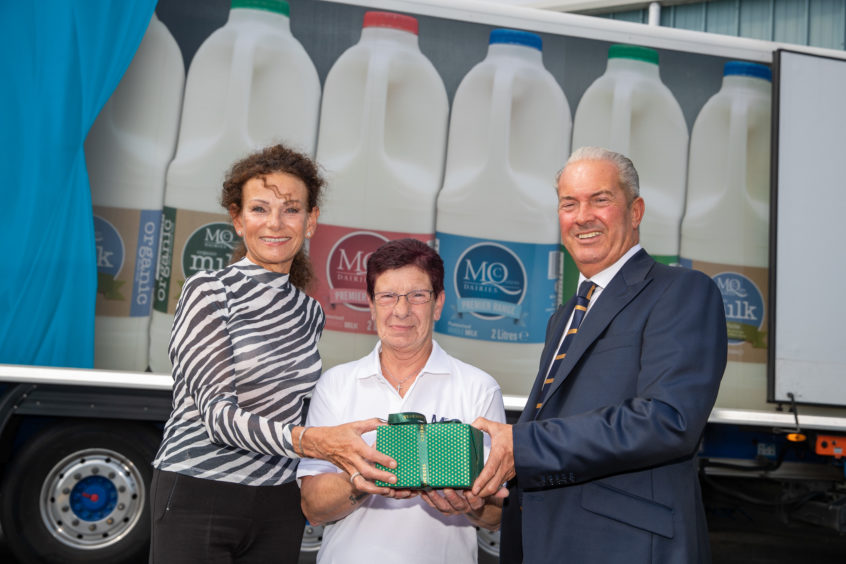 And on the question of retirement, Davina is quick to point out that with demand for doorstep delivery continuing to rise, she hasn't even given it a thought.