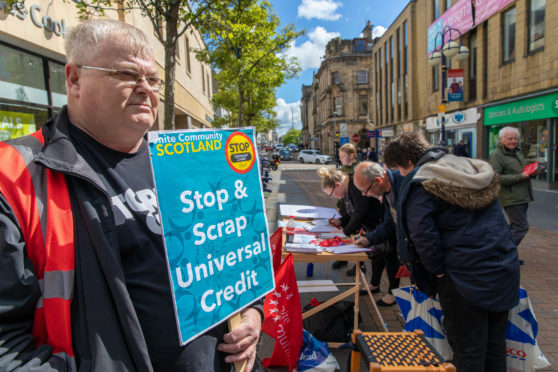 Universal Credit and other welfare cuts contributed to a significant rise in Fife's rent arrears, according to new statistics.
Rent arrears more than doubled in the past year, from £969,922 in 2017/18 to £2.22 million at the end of June – an average of £349.33 per tenant.
Research also shows of the 6,363 Universal Credit cases in Fife, 4,439 have an increasing arrears balance, with just 1,924 showing a falling balance.
The situation was highlighted as part of a report to councillors which confirmed more than £6.7 million in bad debts had to be written off by Fife Council in 2018/19, a 19% increase on the £5.8 million write off the previous year.
Les Robertson, head of revenues and commercial services at the local authority, said the figures represented a "clear indication" rent arrears are directly attributable to Universal Credit and other reforms such as the benefit cap.
He said it was important to consider debt write off alongside debt collection performance, noting the level of debt written off last year accounts for less than 1.2% of the net amount billed – with collection rates relatively stable across all debt streams.
He warned a lack of resources will present ongoing challenges for teams trying to recoup cash.
"Revenues services has introduced a culture and ethos of supporting those who cannot pay whilst taking robust action against those who choose not to pay.
"This constant message is having a positive effect in terms of trying to maintain collection rates.
"However, the challenges Universal Credit has imposed on the work practices within the revenue and housing services is definitely impacting on tenants' ability to pay off their arrears.
"The council actively pursues the collection of all debt. However, debt write off is unavoidable and occurs when individuals and businesses cannot pay their debts and it is an accepted best practice to ensure that irrecoverable debt is written off from our accounts from a prudent management perspective."
A report to councillors said the increase over the year was largely down to the fact Universal Credit claimants have a six-to-eight-week average wait until their first payment, which does not fit with monthly rent.
In terms of bad debts written off, five debt cases involved sums of more than £50,000, the threshold upon which elected members have to be informed under council financial regulations.
Three of those involved companies owing a combined £420,000, while there were two non-domestic rates cases totalling £139,000.
Of the latter pair, one company went into liquidation and the other was dissolved.
Mr Robertson said all debt written off will be reviewed and, where appropriate, debts can be written on and pursued if circumstances change.
The overall write off for council tax fell from £1.46 million to £1.33 million, while income collected rose by more than £7.8 million in 2018/19 to £218.6 million compared with 2017/18.