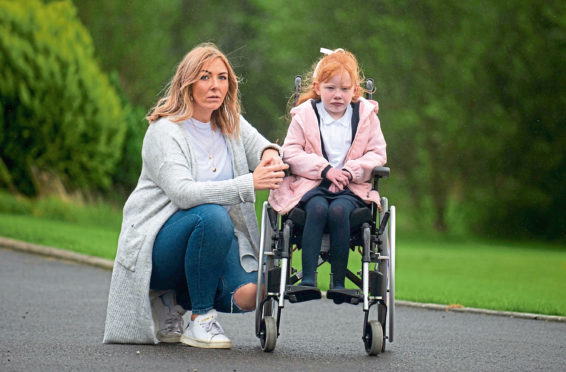 The mother of a Fife girl born with her organs back to front or in the wrong place claims "failure after failure" in Scotland's education system is putting her daughter's life at risk in the classroom.
Seven-year-old Evie Fraser has spent her life fighting to stay alive after she was born with two right lungs, a heart on the wrong side of her body with six major defects, no spleen, and a host of other deadly health problems.
She was given just a 20% chance of reaching her first birthday and is the oldest child with her combination of illnesses to survive without surgery.
Her furious mother Lyndsey is so fed up of the "discrimination" her "miracle" daughter has to face, she has called for a change in the way the education system cares for children with additional needs.
Evie's pupil support assistant (PSA) at Saline Primary, who has provided a "lifeline" for four years, was axed two weeks before the summer break.
Mrs Fraser, of Blairhall, claims she was told the role "no longer suited the needs of the annual school budget".
The PSA has been replaced by two new members of staff who will look after multiple children with varying needs.
Mrs Fraser has now set up a petition after "seeing failure after failure in the education system in Fife for children with additional support needs".
It has already attracted more than 2,000 signatures.
Mrs Fraser, 33, said: "It is just one fight after another. Whether it's with the government, NHS, the council or the school.
"I really do believe that she wouldn't be here if she didn't have me and her dad fighting for her."
Due to the "unpredictable nature" of her condition, Evie needs someone to keep a constant watch over her in class, to ensure early signs of illness are picked up and emergency action is taken, should her heart start to race dangerously out of control.
Mrs Fraser said Evie's PSA recognised when she was unwell, administered medication and on one occasion called an ambulance when her heart had to be shocked back into rhythm, ultimately saving Evie's life.
She claims changes to the way pupils with additional needs are cared for is putting "the annual budget before Evie's basic right to stay alive".
She and husband Ruaridh worked with her daily for eight months when Evie started nursery to ensure "every care scenario was covered" due to Evie's "unpredictable and complex illnesses".
She said: "Other than myself and my husband, her PSA was the only person we trusted without concern to look after Evie when we were not there."
She said mistakes have been made since the school restarted, including giving her unsuitable food and failing to apply vital sun cream, contrary to her care plan.
Fife Council education manager Gordon Wardrope said: "We aim to get it right for every child to give our pupils the best learning experience possible.
"The head teacher and the school's education manager have met with the family to discuss the issues raised and are looking into their concerns."
"In the meantime we will continue to work closely with them to make sure the right support is in place at school."