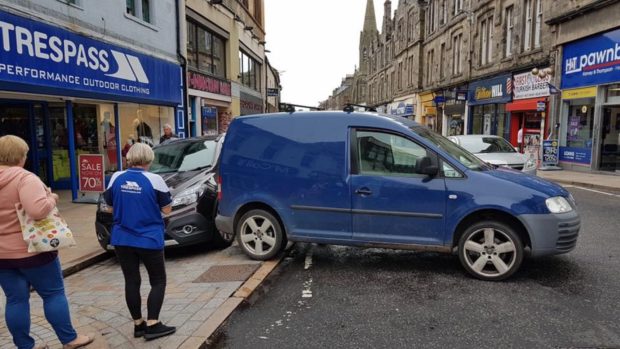 Pedestrians in Kirkcaldy's main shopping street have had a narrow escape this lunchtime after a vehicle rolled down a hill crashing into a parked car.
The incident happened at the junction of High Street and Whytescauseway in Kirkcaldy town centre just before noon today.
It's thought the handbrake of a van failed sending the vehicle rolling back down an incline before striking a Vauxhall Mokka parked in a short stay parking bay in High Street.
No one was injured in the incident.
One onlooker said the van could have hit shoppers had the car not been parked where it was.
They said: "I turned round to see what the commotion was and saw the van had already come to rest against the other car.
"It's lucky that car was there otherwise the van would have certainly mounted the pavement and a passer by could quite easily have been hit.
"I walked past that very spot only moments before."