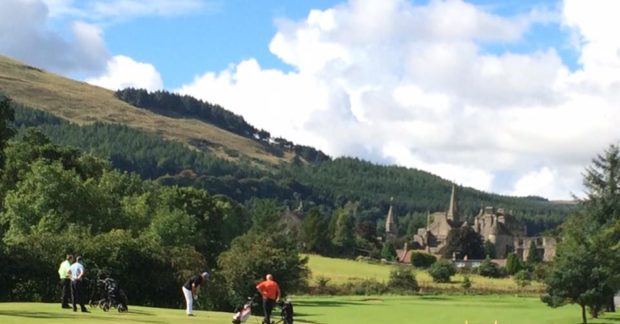 A Fife community is rallying round its local golf club after its clubhouse was targeted by thieves twice in the space of a week.
"Significant" damage was done at Falkland Golf Club in the early hours of Monday morning, although the intruders left empty-handed.
A week ago, £800 was stolen during an initial break-in.
During that theft, it is understood the culprits used a crowbar to prise open a fire escape door before using a chair to smash their way into the kitchen.
They then used the crowbar to get into the clubhouse's cellar, from which the cash was taken.
Although nothing was taken during Monday's break-in, those behind the vandalism again managed to gain access to the building.
Captain David Thomson said the club, which has operated since 1902 and is extremely popular with locals and visitors, had already been "struggling financially" prior to the crimes which "could not have come at a worse time".
He said: "It's devastating.
"You try and do your best for the community facility. We try to do as much as we can for the local community.
"It's a welcoming little club. It's galling. It's means a huge amount to me and it's quite upsetting."
David's daughter Hannah has set up a fund-raising page in a bid to raise £2,000 for the club in order to cover insurance excess, pay for extra security on the doors and install CCTV.
Donors ave already ensured the target is well on its way to being met.
Hannah said: "This is a local, family friendly golf that often hosts whisky and beer tastings, pub quizzes and open days to raise money for the club.
"They cannot afford this kind of set back."
Falkland Cricket Club, which plays its matches nearby, urged its members and local people to help their sporting counterparts get back on their feet.
"We wish them well and I'm sure some of our followers will want to support," a spokesman said.
Police have confirmed they are investigating the incidents and had been alerted to Monday's break-in at around 5.15am.
Anyone wishing to donate to Falkland Golf Club should visit www.gofundme.com/f/help-falkland-golf-club.