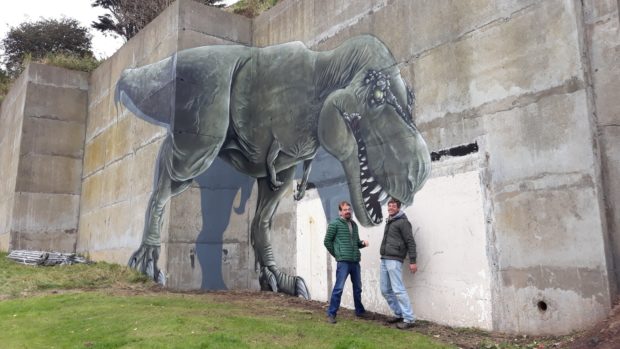 Residents in a Fife town could be forgiven for thinking they had been catapulted 60 million years to the past thanks to an addition to the community.
A giant dinosaur has been revealed in Buckhaven.
The 20-foot tall piece of art, depicting a rampaging, giant tyrannosaurus rex, is the work of well known Auchterhouse-based artist Paco Grafft and is now adorning a long neglected part of the foreshore area.
The eye-catching painting is the latest addition to a programme of improvements being carried out by volunteers and overseen by  activist group; Community-Led Environmental Action for Regeneration (CLEAR).
Allen Armstrong, CLEAR secretary, said the dinosaur had been warmly received by locals.
"We are very pleased with out latest Buckhaven resident and from the feedback in the first few days, so are residents," said Allen.
"The large concrete wall along Shore St and Anderson Lane which once served as the rear of flats demolished a decade ago been seen as an eyesore but has now offered a suitable canvas.
"Overlooking the Forth Estuary, the site already commands excellent views of the ring of extinct volcanoes and thus a reminder of geological history .
"And since dinosaurs are popular with children, it proved an easy choice and is already proving an attraction for local kids.
"The mural was one of the ideas that came from a public consultation two years ago on how we could look to improve the area."
Since word started to spread regarding the arrival of the snarling dinosaur, people have been pulling up keen to get a glimpse of the prehistoric monster.
"I love it, but I wouldn't like to meet it on a dark night," joked one onlooker.
Another added: "This ties in so well with the shop shutter art that has brightened up the town centre.
"Everyone is talking about how realistic it is, so many people are going to want their picture taken with it."
Funding for the T-Rex was came from Fife Council and moves are already being made to raise the cash to trigger phase two of the project which will tie in with the pre-historic theme.
"We'd love to see a couple of flying pterodactyls alongside T-Rex but it won't just be that," said Allen.
"There's a wealth of history connected to Buckhaven, once the second busiest fishing port in Scotland, that we can take inspiration from and we'd like to see some of that incorporated into any future public art."