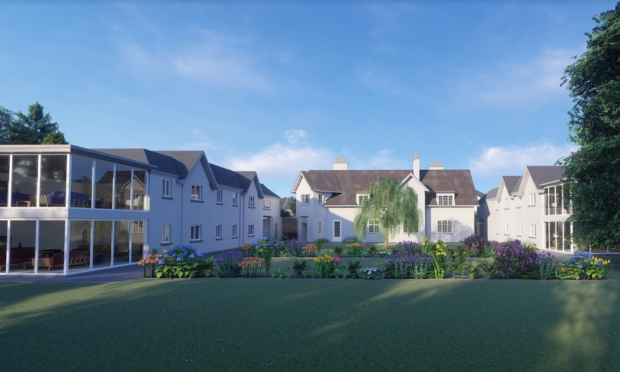 Neighbours in a St Andrews street have urged councillors to block construction of a care home in what they claim is the wrong location.
The 38-bed centre in leafy Hepburn Gardens is intended to replace ageing Gibson House, in Argyle Street.
Fife Council's north east planning committee will decide on Wednesday whether to issue planning permission to alter and extend the White House, nine months after rejecting a previous design by applicant CAF Properties.
Planning officers have recommended the committee gives the nod, but objectors have urged members to heed a Scottish Government reporter who deemed the earlier proposal unsuitable when its refusal was appealed.
One neighbour Zinaida Lewczuk claimed firefighters would be unable to access two of the proposed accommodation wings.
She is also concerned that large vehicles would have to reverse in a cramped area also used by pedestrians and residents, some in wheelchairs.
She warned: "In a fire emergency such substandard safety conditions could seriously impede evacuation, with potential serious consequences."
Visibility would also be a problem for motorists exiting the home, she said.
Another resident Lara Dow said it was a "clear case of over-development" which would cause major noise and light pollution and traffic disruption and harm the conservation area.
She said: "It is still the wrong development in the wrong place."
They were backed by St Andrews Community Council. Planning convener Penny Uprichard said: "The proposal to turn 92 Hepburn Gardens into a care home is a case of over-development.
"The two accommodation blocks in the garden are at odds with the attractive White House and do not comply with conservation area guidelines, while access will be difficult, given the heavy traffic on Hepburn Gardens."
Planners say the home is of an appropriate design and would not harm residential amenity or lead to adverse noise, light or odour pollution.
They also say upgrading of the entrance would improve visibility and that large vehicles would be able to reverse in the car park.
Fire engine access would be considered before a building warrant is issued, they add.
The Gibson Trust, which would move residents from Gibson House, has said the new home would provide high-quality, purpose-built accommodation.
Dorothea Morrison, chairwoman, said: "The Gibson Trust has been looking unsuccessfully for new facilities for 17 years and I am pleased that Fife Council is recommending that members grant approval to the application.
"We are confident that this project is now able to provide the facilities which are much needed to deliver the highest quality of care to our residents.
"The Gibson Trust has no other viable alternative to relocate our residents within central St Andrews."
Charlie Ferrari, of CAF Properties, said the company had taken on board feedback on its previous proposal and had undertaken a six-week consultation programme.
He said: "The proposed changes we have made are designed to further protect residential amenity to the neighbouring properties whilst providing modern first class care facilities to the residents of Gibson House."