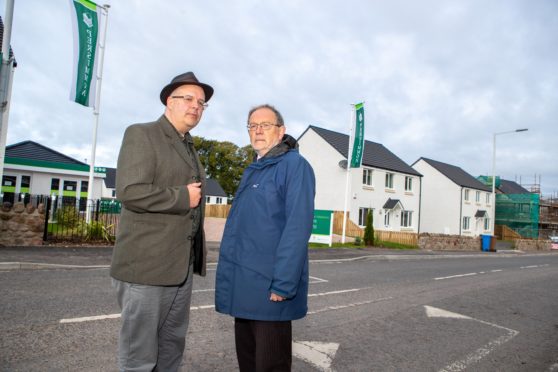 Developers behind plans for new housing which would significantly increase the population of a Fife village have promised to listen to local residents at a drop-in session this afternoon.
Tay Bridgehead Liberal Democrat councillors Tim Brett and Jonny Tepp had urged Persimmon Homes North Scotland to run a further consultation event in relation to its proposals to build an additional 161 houses west of Kilmany Road in Wormit.
The move follows on from its existing development of 41 houses in the village.
Around 70 objections to the latest planning application have already been lodged with opponents citing concerns about the impact on local services and traffic among other issues.
A final decision is expected to be taken by north east Fife councillors at a later date.
Representatives of Persimmon Homes say they will take feedback from locals at a special session taking place from 4pm to 7pm today in the marketing suite of its Naughton Road development.
Mr Tepp said: "Persimmon initiated this development in 2016 and did consult the community in December 2016 through a pre-application consultation event.
"However, the initial development centred around 41 units – and we feel that although the proposal for 161 units was technically included in this 2016 event, enough time has elapsed between the event and this development for a re-run to be simply good manners."
Mr Brett said he was pleased to see Persimmon Homes respond to the concerns.
"The proposal has generated a lot of discussion in the community and we would like Persimmon to give members of the community another chance to see their plans in as much detail as they can give with the opportunity to comment on and influence them," he said.
"Although the proposal for new houses is available on the council's planning site, the technical nature of the material means that a face-to-face event is the only real way that members of the public can properly engage with this sort of development proposal."
Newport, Wormit and Forgan Community Council is among the critics.
A spokesperson for Persimmon Homes North Scotland, said: "We can confirm that as part of the second phase of our Naughton Meadows development we are in the process of organising a drop-in consultation session.
"This will enable us to further consult with Newport, Wormit and Forgan Community Council, local residents and elected members."