In the third of a series of articles examining how we can reshape our city streets during lockdown Dr Husam AlWaer, an expert in urban design at Dundee University, warns that a failure to promote active travel beyond the city centre and Broughty Ferry will leave local communities gasping for breath.
On June 19, Scotland began to enter Phase Two of easing lockdown restrictions. A month before, the country entered Phase One, allowing people to leave their homes for the first time in weeks – and many immediately opted to get back behind the wheel.
Dr Husam AlWaer has noticed. Those who have always used their car to nip half a mile down the road for a paper and a pint of milk will keep doing so, he says, unless they are encouraged to do otherwise.
The way he sees it, there's little chance of that happening any time soon unless planning chiefs at Dundee City Council consider drastic measures.
To date, the council has sought £470,000 of funding from Sustrans' Spaces For People pot to implement temporary walking and cycling infrastructure, which is being used to close streets in the city centre and in Broughty Ferry. Elsewhere, some 20mph zones are being introduced in residential areas.
But the cash Dundee has sought from the pot – inflated from £10 million to more than three times that to date – is a fraction of that applied for by other councils with similarly low levels of car ownership.
"This crisis really reveals the disparities in Dundee and elsewhere in terms of access to basic local facilities, services, shops and transportation, or even green spaces to do exercise in, especially with physical distancing now," Dr AlWaer says.
"It's too easy at the moment for people to jump into the car and it's not enough to invest in two small roads," he says, referring to Dundee's existing Spaces for People projects.
"The system, the pre-existing structure, is broken, and we have to admit that."
The 'new normal'
Dr AlWaer, who has advised local and national governments on urban design, says the current pandemic needs to be "converted" into an opportunity to improve communities while people continue to work from home for the next 6-12 months.
This could include making better uses of existing public spaces as well as creating temporary cycling lanes and bus-only routes – with the potential to keep effective initiatives when the coronavirus pandemic is over.
"I don't think we'll get a better opportunity than this," he reckons.
"The point I want to make clear is that across Scotland we only focus on the city centre – we assume that if the centre flourishes everywhere flourishes.
"This can all be experimental – because this is an opportunity. If it doesn't work, fine, it doesn't cost a lot of money. We shouldn't feel afraid to experiment, or to invest in experimental ideas.
---
---
"I'm not against the car. But what's important is that we need fewer cars on the road, more cycle lanes, even if it's temporary.
"People are now cycling in Dundee because they feel confident, safe and secure. We need to keep that going or people will lose confidence in the system in terms of safety and get back into cars.
"If we go back to how things used to be we have made a mistake and there is a severe problem with the system.
"We need to invest in the new normal and how to make it better in the long run."
Call for Dundee Covid-19 commuter shake-up to include 'forgotten' areas
Official statistics from the Department for Transport back up his assertions about local travel habits: an average of 307,000 cars passed along Dundee's main roads every day in 2018, while the average number of daily cyclists was just 638.
To combat this he suggests reclaiming excess road space for active travel, street furniture and extensions of businesses – such as displays of goods or seating – in all parts of the city, not just cherry-picked patches.
He cites Broughty Ferry as a good example of a locality which has everything it needs in close reach – a blossoming high street, high rates of cycle use, and a strong community spirit. But it is also very affluent. Hardly its fault, but perhaps why it thrives.
"What about Albert Street? The Hilltown? Where is their strategy?" he asks.
"We need a city of active and connected neighbourhoods. How much parking is there in Lochee, for example? Lots of people are about 1000 metres away from it and it's easier for them to use their car and park (rather than walk) – that's the point I'm trying to make.
"Broughty Ferry, on the other hand, is self-contained – it has access to a very good high street, schools, nurseries, different types of shops, cycle lanes – this is why it's so self-contained.
"Meanwhile in Albert Street some banks closed so people there no longer have as much access to cash – and local shops only tend to accept cash.
"This is not the case in Broughty Ferry. They don't think about going into the city centre – they have everything they need."
Aiming big in the V&A city
Getting 15-20% of Dundonians to get on their bikes, he reckons, would be an achievement in the short-term – nothing like the rates of commuting in the cycling capital of Copenhagen, but a start nonetheless.
And if people get on their bikes now, and build up their confidence, it's more likely they'll stay in the saddle as restrictions continue to ease and traffic returns to the streets.
"When people feel confident, they won't want to drive anymore. They get used to it. The air quality is better now, you feel it – let's keep that. Otherwise we miss a big opportunity.
"There will never be a better chance than this, but it needs leadership and someone to take risks and be brave.
"This is about long-term, not just the next 3-6 months. At the moment in Dundee it's only 1% of journeys done on bike. Let's see if we can capitalise on this.
"When you build confidence, people become more confident themselves, but they need to be incentivised – and that means everyone, not only Broughty Ferry."
As for how you incentivise them, Dr AlWaer has some suggestions for how councils can do that too.
"I find it really interesting that our experts people in charge tell us cycling is good because it's better for the environment or health, but the majority say: 'No, it's about choice'," he says.
"In Copenhagen, using the car to get from one end of town to another might take 35 minutes. The same journey by bike takes 13 minutes.
"It's not about telling you what you have to do – it's about creating the conditions that allow people to contemplate it for themselves."
6.Covid-19 makes it clearer than ever: any new strategy post COVID must NOT lead to the OLD NORM and instead it should make the new norm a default practice and then moving to the better norm using this formula (response to emergency, recovery,& mitigating & sustaining momentum). pic.twitter.com/1SF0zqN8kK

— Dr Husam AlWaer (@husamalwaer) June 17, 2020
He is realistic about the time it will take to instigate such change – permanent cycle infrastructure can't and won't appear overnight, but by way of small innovations with big, long-term impacts.
That said, Dundee has a reputation for aiming big – but Dr AlWaer worries that the city is sabotaging the crowning glory that gave it such a name with obstructive traffic infrastructure.
"Change will take time," Dr AlWaer says, "but so did the V&A. People felt it was impossible.
"But what's happened now is that we don't appreciate the value of the V&A so much because it is segregated – you can't even let your children go there because of how many traffic lights there are in the way. Could we experiment with closing lanes, linking the city with the V&A?
"Change is coming. I guarantee you it is. The car will still exist, I have no problem with that. But let's make it the inconvenient option."
Mikael Colville-Andersen: City leaders need 'a kick in the pants' if they think Dundee is fit for cycling
Much like the urban planning advocate Mikael Colville-Andersen, the Dundee Uni academic believes cities have a chronic problem with designing for those who commute into them rather than for the local populace.
"The problem with Dundee is lots of people commute away from Dundee or pass through it," he says.
There's also an issue of street design: regardless of whether people drive or cycle, if you build it, they will come.
If you build lots of parking spaces and wide, multi-lane carriageways for cars, he says, people will drive in their usual high numbers. Reduce that, or even make it inconvenient to get around by car, and people will drive less, he says, especially on short journeys.
2-Covid 19 makes it clearer than ever:the city must be a city of connected neighborhoods with short distances, proximity to public transport, functioning local economy & balanced density. This requires decentralised governance with a defined degree of local empowerment. #Freiburg pic.twitter.com/9YoHWX6vMY

— Dr Husam AlWaer (@husamalwaer) June 6, 2020
But there are bigger issues related to planning to consider, especially as Dundee prepares to line its edges with new housing estates recommended for approval without any consideration for infrastructure like shops and schools.
Without those essential community assets, people will end up trapped in identikit cul-de-sacs and no option but to use the car to reach a supermarket or retail park to shop. There's also no local economy or community, with further negative impacts as a result.
For several years, Dundee City Council has been challenged over its lack of ambition in cycling infrastructure. And to date, its lockdown changes have amounted to closing roads in the city centre and Broughty Ferry, and imposing 20mph speed limits in other pockets of the city.
Dr AlWaer says the authority needs to be more ambitious.
"Even if you achieve only 70% of an ambitious plan that's still an achievement," he concludes. "Let us try."
---
Our cycling survey
Over the coming days we will hear what local, national and international experts believe needs doing to keep people on their bikes during and after lockdown – and give the council their chance to respond in turn.
We also want to know what you think about cycling where you live, whether in Dundee, Angus or Fife. Are you a seasoned rider enjoying seeing others get in the saddle, or a new member of the cycling club taking to the roads for the first time?
Complete our survey and share it with your friends so we can put together a complete picture of cycling in Tayside.

If you have anything further you'd like to contribute to our story, email jbrady@dctmedia.co.uk with pictures, videos and anything else you'd be happy to share.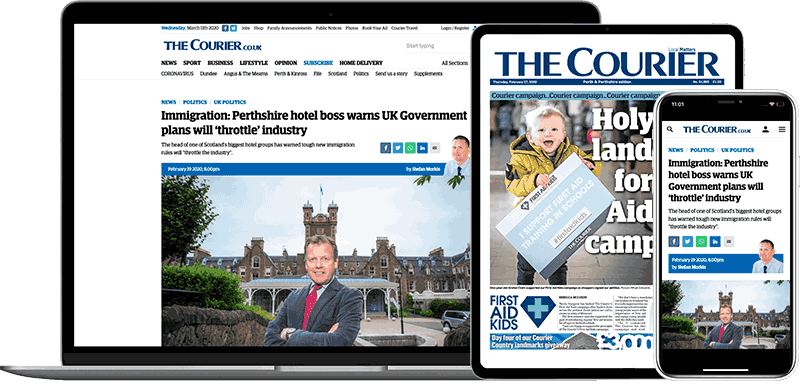 Support The Courier today.
The Courier is committed to delivering quality content to our communities and right now that's more important than ever — which is why our key content is free. However, you can support us and access premium content by subscribing to The Courier from just £5.99 a month. Because Local Matters.
Subscribe