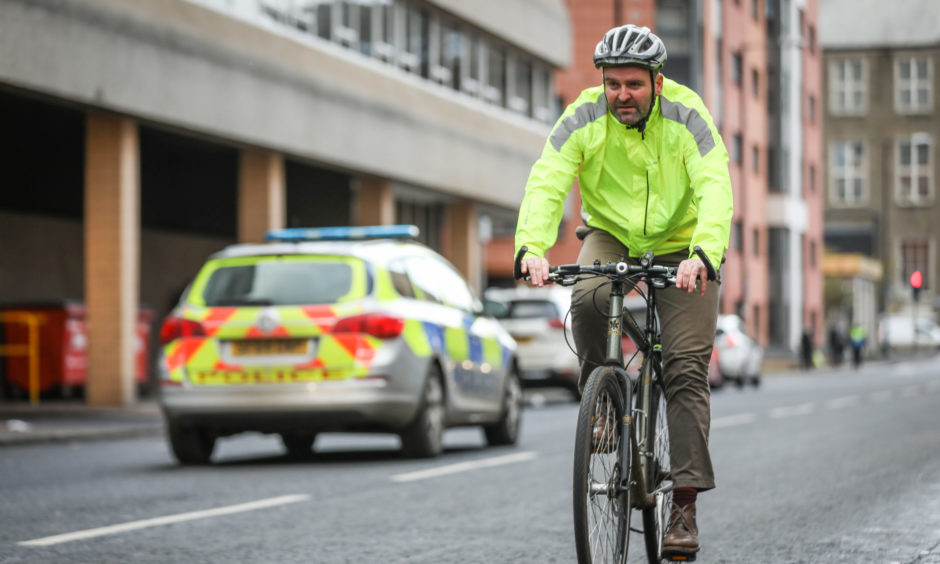 Police in Tayside are set to roll out a long-awaited road safety scheme in the region due to the rise in cycling during the coronavirus pandemic.
Neil Lumsden, Police Scotland's north road policing area commander, has confirmed Operation Close Pass is to be introduced in Dundee, Perth and Kinross and Angus during the summer.
It sees plain-clothes police officers hit the roads on bicycles and flag up any drivers who pass them at a dangerously close distance – legally anything less than 1.5 metres.
Marked police vehicles then stop the driver to educate them on passing cyclists at a safe distance.
Close Pass is being rolled out in Tayside as Cycling Scotland launches its annual advertising campaign encouraging drivers to give space to people on bikes.
As reported in The Courier's Pandemic Pedal Power series, cycling has enjoyed an explosive surge in popularity during the Covid crisis as people make the most of empty streets near where they live.
However, with lockdown restrictions continuing to be eased, police are preparing for a return to pre-pandemic levels of cars on the roads.
Commander Lumsden said: "Since lockdown we have seen a modal shift towards more active travel. This includes an increase in the number of people using our roads for cycling.
"As part of our response to this change, road policing officers across the north will be conducting Operation Close Pass checks in areas including Dundee, Perth and Kinross and Angus.
"This preventative approach allows for positive engagement and an opportunity to educate and increase driver awareness about the need to give cyclists plenty of space."
Cycling campaigners have been calling for police chiefs to bring Close Pass to Tayside for several years due to what they said was a persistent issue of close-passing by cars, lorries and buses on local roads.
There was no logic to the decision not to try it. It seems there was a bias against cyclists but it's great they are cracking on with it."

Russell Pepper
The Near Miss Project, an academic analysis of the impact close passes can have on cyclists, says most cyclists deal with them on an everyday basis – and around once a year they will experience an event "so frightening that it alone makes them consider giving up cycling."
Chief Superintendent Andrew Todd, Tayside regional commander, sparked anger last year when he suggested that close passes were not occurring frequently enough to justify allocating resources to the operation.
Russell Pepper, spokesperson for the Dundee Cycling Forum, has hailed the move as "really good news" for local cyclists.
He said: "A lot of things are going the right way. I hope this encourages people to stay out cycling (post-lockdown)."
Mr Pepper believes that a greater number of cyclists being on the roads in Tayside – coupled with a potential rise in people reporting close passes as a result – had left local chiefs with no option but to try out Close Pass.
He added: "There was no logic to the decision not to try it. It seems there was a bias against cyclists but it's great they are cracking on with it."
New research published on Monday by Cycling Scotland found that more than a third of drivers admit to not always passing at a safe distance – and two-thirds were unaware that it was an offence to do so.
Keith Irving, chief executive of the advocacy body, said: "As we move out of lockdown, we're seeing an increase in road traffic and more tragedies on our roads as a result.
"Cycling Scotland believes that Operation Close Pass, improving infrastructure and, as soon as it can be implemented, third party reporting of dangerous driving behaviour will all be necessary to keep us all safe."