Dundee's cycling spokesperson has admitted that the city is not doing its own cycling policy justice after failing to use active travel cash to activate what the document calls "shovel-ready" cycle routes.
In an online discussion of cycling issues with Dundee Cycling Forum hosted by The Courier (see full video above), Kevin Cordell acknowledged that the Cycling Strategy goal of planning bike routes for rapid deployment was not being met, despite funding being available to create such measures during the coronavirus pandemic.
The plan, first launched in 2016 and revised last year, commits the local authority to building upon an "existing strategic network" of main roads and shared-use paths with "shovel-ready" additional routes, ready to be rolled out at short notice as and when funding becomes available.
The Broughty Ferry councillor said: "I would agree that the strategy says there should be shovel-ready products to be used when funding becomes available.
"The cycling strategy is an ongoing process but I think it's a valid point that we need to have the ambitious plans that we want and when funding becomes available we can just say, right, let's go.
"We just have employed a new head of sustainable transport so you can be assured all these conversations will be happening. External funds, when they are available, are something we should really be tapping into."
The council's new head of sustainable transport is Ewan Macnaughton, the current road maintenance partnership manager at Tayside Contracts. He was criticised by councillors in early 2018 for a decision to resurface part of the Nethergate with "aesthetic" mono-block paving that sunk months after it was installed.
The current version of the map details both the existing network and an "aspirational network" of further paths. It is less detailed than the original Cycling Strategy Map, which outlined short and long-term aspirations for cycling infrastructure.
Dundee's approach to active travel during lockdown has been criticised for its lack of ambition compared with other cities. It has so far successfully bid for £460,000 to close waterfront streets to cars and create 20mph zones – while Edinburgh has been given £5 million that it says it is using to fast-track existing active travel plans.
Speaking during the online discussion, cycling forum spokesperson Russell Pepper claimed the council had failed to take full advantage of the funding by creating a temporary version of, for instance, its much-touted Northern Links project.
He said: "Other cities like Edinburgh have got a 10-year plan for what they want to achieve with active travel so they could bring those plans forward.
"With Dundee, the Cycling Strategy published a couple of years ago was meant to developing a strategic network of routes that were 'shovel ready'. There are none of those. If they were serious, the council could have brought some of those plans forward and put popup bike lanes in. But there just isn't a plan for those routes."
During the discussion, Mr Cordell acknowledged that there was a "fundamental" need for a change in how people think about green transport beyond the council's heavily touted electric vehicle programme.
And while he praised the boldness of overnight decisions such as the smoking ban, Mr Cordell said the council had a responsibility to car owners to ensure they were on board with active travel before pressing ahead with immediate changes to transport policy.
"Anyone that's been out during lockdown will have seen people out and enjoying that freedom and road space where they wouldn't normally have gone," he said.
"We can't just have lockdown ending and everybody rushing back to their cars. We need to give people those alternatives and make it easy for them. The problem is, the car has been king for quite a long time.
"For a lot of people it's very easy to say they want something but when it affects their street that's when there are difficulties. We need to do the groundwork, the persuading, and bring people with you when you lay out what you're doing so they're on your side.
"Temporary (cycle lanes) can become convention can become permanent when people see the benefits they bring to their local area. When people see positive changes and benefits in action, they want more of it. We all know the change has to come."
Pepper, who was among the first to criticise Dundee City Council's first Spaces for People bid, says the city doesn't have to design cars out of the picture – but simply to make cycling an easier choice to make.
"If you look at countries with high levels of cycling the reason people cycle isn't for health benefits – it's because the town has been designed to make cycling the easiest way to travel around.
"If you look around the streets in Dundee they are only designed for cars and that's it. All you're doing when you make cycling and public transport more attractive is putting in space for them and you're making driving doable, but not as dominant as once it was."
The Dundee Cycling Forum spokesperson has suggested following the example set in countries such as Denmark and the Netherlands where cyclists are given priority at junctions and residential areas are blocked off with "modal filters" to discourage their use as rat runs.
He added: "I've got friends that have taken up cycling for the first time and it's really encouraging to see them doing that. But there need to be safe routes.
"I'm quite an experienced cyclist so it doesn't bother me mixing with traffic, but when you're just starting out as a cyclist it can be pretty scary.
"Pop-up routes need to come in quickly so people can make the shift and not use their cars. Public transport is going to have a reduced capacity for some time, so we need to have another option.
"People are a bit scared of the unknown but if you put pop-up lanes in people will probably think it's nice and want to keep it. It's a lot cheaper as well.
"Rather than spending a lot of time doing research and modelling to figure out the best routes and building them permanently, just build them temporarily – the routes that work, you keep and the ones that don't, you remove. It is a necessity."
Dundee's Cycling Strategy was first created in 2016 in response to a government request that local authorities proactively develop active travel plans. In its first revision, published last year, a number of pledges were either amended or removed altogether, as were references to previous criticism of Dundee's bike-friendliness.
Erased promises included a plan to spend at least 5% of the annual transport budget on cycle provision and an optional cycle voucher scheme for school children in place of free bus travel.
The local road maintenance partnership – which Mr Macnaughton was manager of at the time – has also been absolved of total responsibility for gritting cycle paths in favour of "investigat(ing) opportunities for third sector organisations to add value" to winter maintenance.
Dundee's dedicated cycle paths do not feature on its Winter Maintenance Map despite complaints from local cyclists about black ice in colder weather. Paths shared with pedestrians are included.
Warning to any other Dundee / Broughty Ferry cyclists tonight. Big bit of black ice on the cycle path near the start of the docks. I just had a painful close-up view. Get some grit on it please @DundeeCouncil @dundeecycling #cycling pic.twitter.com/V3W3nDLIX1

— Richard Rooney (@C_RRooney) November 13, 2019
Responding to a request for comment, a Dundee City Council spokesperson did not answer questions on why some aspects of the strategy have been removed.
The spokesperson said: "The city's first ever cycling strategy was responsible for greater engagement with some sections of the cycling community, delivering a number of projects to increase cycling and improve cycling infrastructure and laying out a number of aspirations, many of which were met.
"All of this was taken into account along with other changes in the policy and financial context that have taken place in the three years between the two documents when developing the most recent strategy. This has resulted in the refocused current cycling strategy which the council and its partners are currently delivering."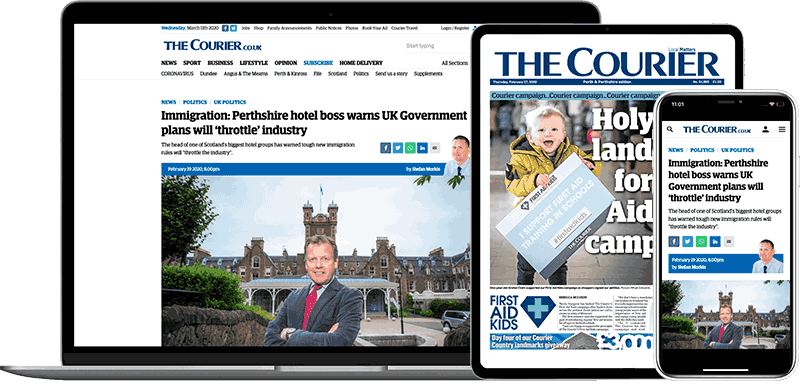 Help support quality local journalism … become a digital subscriber to The Courier
For as little as £5.99 a month you can access all of our content, including Premium articles.
Subscribe