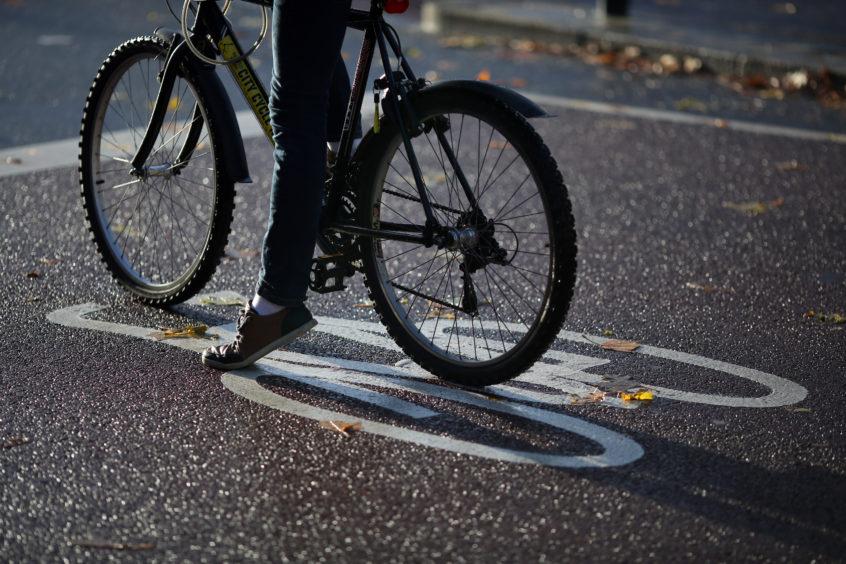 Cycling campaigners have said the post-pandemic period presents a golden chance to bring in changes to cut the death toll on Tayside roads.
There have been more than 160 recorded cycling accidents across Dundee, Angus and Perth and Kinross – dozens of them serious – over the past five years.
In Angus there were 40 accidents, 13 of which were serious. Dundee saw 67 incidents – 16 serious – and Perth and Kinross suffered two deaths in 2018 among 57 accidents, another 17 of which were serious.
The figures do not include a trio of cycling tragedies which occurred earlier this year involving a Dundee teenager, a popular Perthshire teacher and a former Angus Royal Marine.
A new survey carried out by The Courier has revealed that three quarters of the area's cyclists had either been involved in an accident or near-miss.
Lockdown has seen a hike in cycling numbers, but with the return of cars, vans and trucks to the country's roads in greater numbers, cycling experts and politicians fear the combination of relative inexperience and a lack of safe infrastructure may create a potentially tragic mix.
North East Conservative MSP Liam Kerr said "joined up thinking" is needed to ensure people are safe in the saddle.
"Since lockdown began, bike shops have been hard-pressed to meet the demand of a new wave of cyclists," he said.
"The roads have never been busier with families on their bikes, which is great to see."
"It's likely that will continue and that should be met with a new post-pandemic approach to our road infrastructure.
"If we are going to be joined up in Scotland, cash-strapped local authorities need help improving their walking and cycle path network.
"That would also help reduce the number of accidents on main roads."
In the wake of The Courier survey which revealed 62% of people in Tayside and Fife think their local cycle routes are poor, the Scottish Greens have also backed calls for greater infrastructure investment.
Mid Scotland and Fife MSP, Mark Ruskell said: "The results show there is a real desire for folk to get out on their bikes, but poor infrastructure and high accident rates are putting people off.
"It's really shocking to see three quarters of people say they've experienced an accident or near miss, and we need a real shift in our cities if we're going to make cycling a long term option.
"Many of my constituents in North Fife would cycle to work in Dundee if we provided a dedicated cycle corridor over the Tay Bridge.
"The Forth Road Bridge has been a huge success for commuters in South Fife, and it's time we considered similar measures which would reduce traffic in the city and boost people's confidence in taking their bike to work.
"I've written to the Tay Bridge Board to ask them to look into this option."