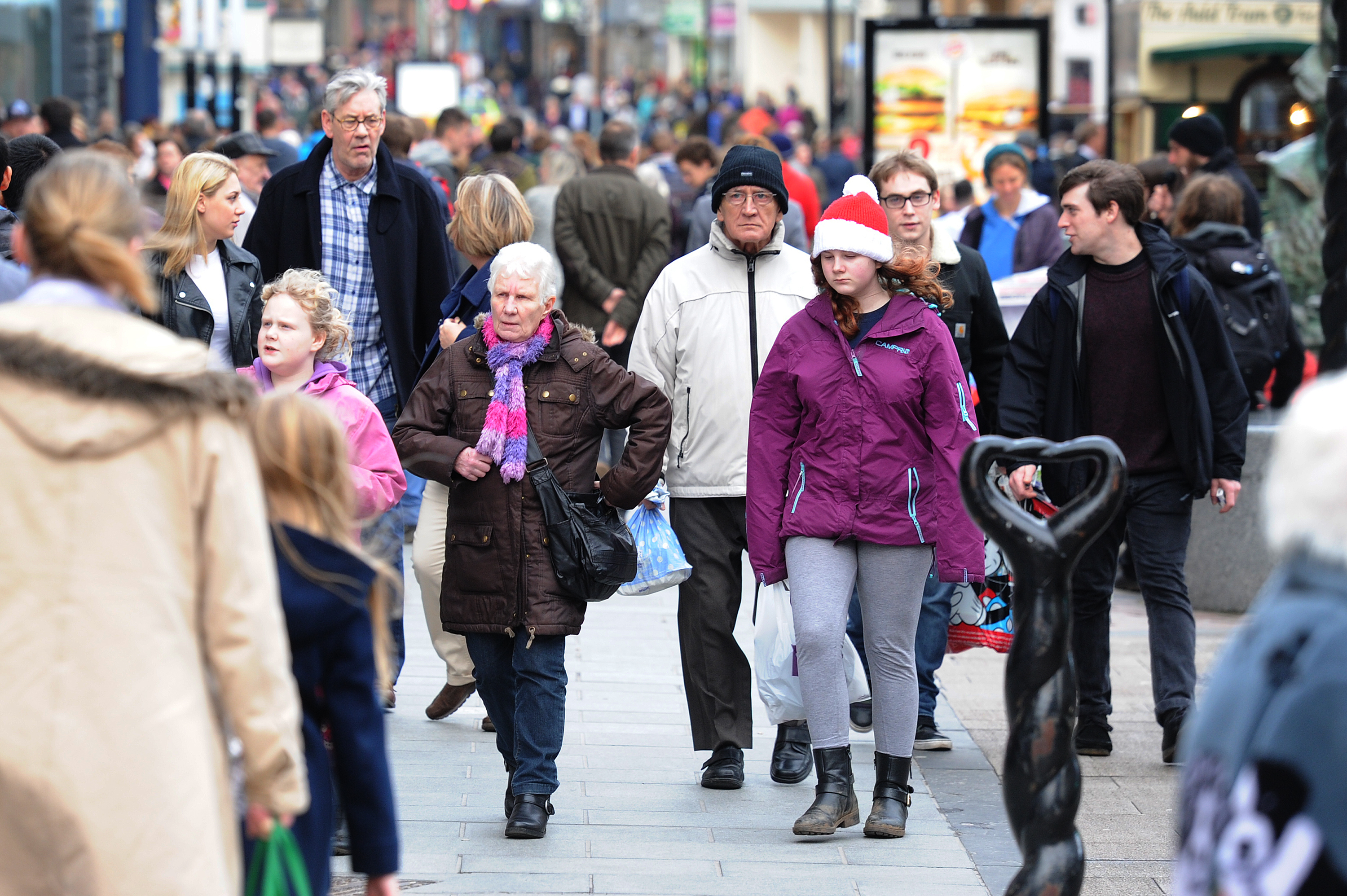 People in Dundee, Angus and Aberdeen will spend the least of anyone in Scotland this festive season, according to new research.
Residents of the North East Scotland region will splash out just £394.63, on average, on Christmas costs, including presents and parties.
Shoppers in Mid-Scotland and Fife will spend £580, putting them in the middle of the table.
In fact, 13% of people from that region are prepared to spend more than £1,000 across the holiday period.
| | | |
| --- | --- | --- |
| | Mid Scotland & Fife | North East |
| Spend in total: | £580.45 | £394.63 |
| Christmas Day meal: | £71.37 | £38.04 |
| Presents/gifts: | £431.31 | £283.81 |
Scots celebrating Christmas plan to spend an average of £534 in preparation for the big day, according to the Bank of Scotland figures.
If replicated across the country this could lead to total festive spending of £2.35 billion.
The research, which looks at 2016 Christmas spending plans, shows that only 14% of people feel under pressure to spend more this Christmas than they did last year. Most, 57%, intend on spending the same amount.
Sitting at the opposite end of the scale from the North East, people in Central Scotland plan to spend the most on Christmas, with the average person there intending to spend £676.
The survey also suggested Scots are keen to avoid getting into debt with fewer than one in 10 — 9% — planning to borrow money to pay for Christmas. Alternativy, 36% have put aside savings to help foot the bill for the festive season.
The figures have been welcomed by Mike Moran, director of the Bank of Scotland.
He said: "For many families Christmas is the most expensive time of the year. The combination of buying gifts, going to parties and hosting Christmas dinner creates a significant cost pressure.
"The good news is that most Scots aren't feeling pressured into spending more on Christmas this year and should be able to wake up in January without a Christmas debt hangover."
The biggest cost is on presents with the average Scot planning to spend a total of £385 on gifts. The research shows that people typically plan to give eight presents – an average cost of £45 per gift.
Meanwhile, separate figures suggest online shoppers will spend £805 million on Christmas Day, a 10% increase on last year.
Christmas Day is now a "fairly significant" event in the online shopping calendar as people redeem gift cards and hit the sales early, IMRG (Interactive Media in Retail Group) said.
Boxing Day is also estimated to get close to being a billion-pound online shopping day, with sales forecast to reach £984 million, up 15% on last year, according to IMRG and SimilarWeb data.
Justin Opie, managing director at IMRG, said: "It might not seem an obvious fixture in the retail calendar, but Christmas Day has actually become a fairly significant online shopping day in the UK.
"Whereas gifts were traditionally physical items, many people now receive gift cards which they can instantly redeem on the day to download the kinds of items that have become highly virtual – games, music, in-play app upgrades etc."