More than 70 "warriors" ran, crawled and jumped their way through an assault course at Dundee University to help raise funds for mental health support.
The Brave Runner event, organised by the Sports Union and the Institute for Sport and Exercise at the university, aimed to test the fitness, strength, stamina, mental grit and teamwork of all taking part.
Proceeds will go to the on-campus Healthy Body, Healthy Mind referral service.
Runners were encouraged to turn up in fancy dress centred on the theme "warrior".
Alexandra Scott, Sports Union president, organised the event with university gym manager Nik Long.
Alexandra said: "We first organised this challenge four years ago, when I was in my first year. It was a success, so we thought we would run it again.
"We are doing the Healthy Body, Healthy Mind award as part of NUS Scotland , which aims to engage people in sport.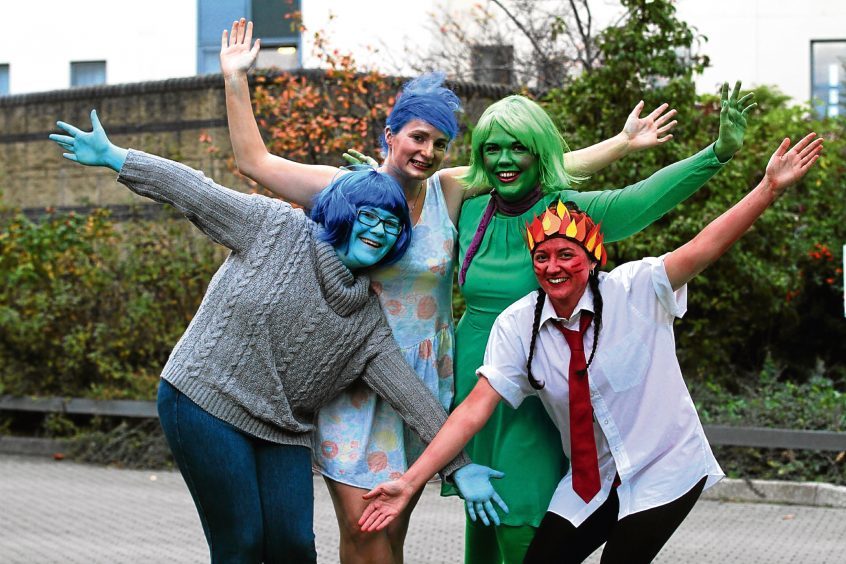 "The Brave Runner is a challenge, but it's also fun and anyone can take part, whether they've been involved in sport before or not."
In total there were 10 obstacles, arranged and supervised by the University Officers' Training Corps, a leadership training unit operated by the armed forces.
Participants worked in teams of five to perform a number of tasks including jumping over tyres, carrying heavy tubs of water, crawling under nets and sliding down a makeshift water slide.
They also had to go through various drills, such as shuttle running, burpees and jumping up and down from a low fence.
Nik added: "It has been proven that regular exercise can help mitigate the effects of poor mental health and can kickstart a more balanced wellbeing.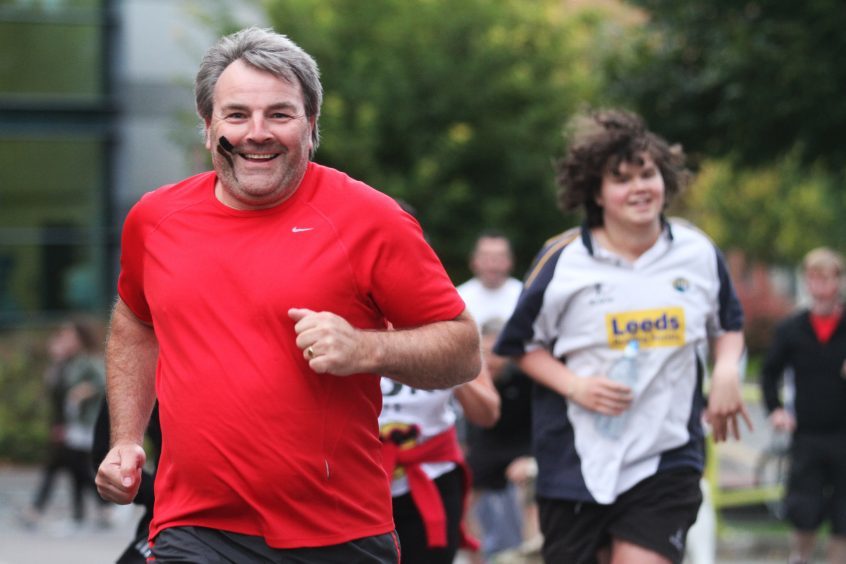 "All donations will go towards our Healthy Body, Healthy Mind referral service, which is available for students who can benefit from exercise to help balance out the adverse effects of modern life."
The entire challenge took around an hour to complete.
COMMENT: Nadia Vidinova
At a time most people were having their dinner, I was caked in mud and wrestling with a camouflage net that had engulfed my Ghostbusters  backpack.
It was a predicament my journalism training had failed to prepare me for.
I was taking part in Dundee University's fancy dress Brave Runner challenge, which featured a number of army-inspired obstacles.
I like to think my fitness levels are fairly good – I go to the gym and do plenty of hillwalking.
Even so, I did feel a smidge of trepidation about the challenge.
It started off with 10 shuttle runs, which immediately had me out of breath.
Luckily the rest of the circuit wasn't too hard a slog, with more focus on fun than winning – which was just as well, since my team was among the last to finish.
With music along the way and stewards shouting encouragement, time passed quickly, and before we knew it we were done.
The event's cause was worth the sweat – proceeds go to the university's mental health service.
It encourages people to take up exercise to improve their wellbeing – Ghostbusters costume optional.