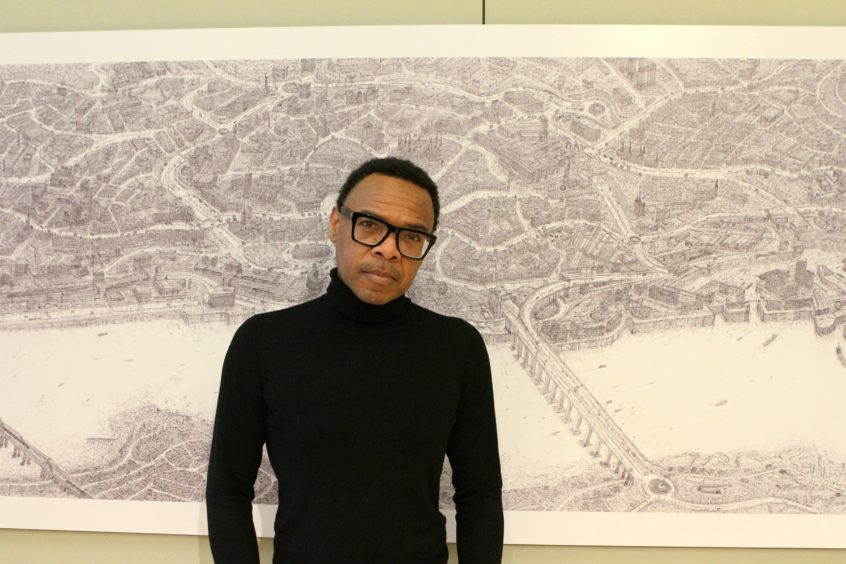 Self-taught artist Carl Lavia is on a mammoth mission to sketch the 69 cities of the UK – and his aerial pen drawing of Dundee is the latest to go on display.
Londoner Carl – also known as Sketch – decided to draw the city of Birmingham in 2016 and that's when he joined forces with photographer Lorna Le Bredonchel to form the ambitious project.
He says: "I was always known as a person who was obsessed about cityscapes. I have been sketching since I was five and I was just compelled to draw cities."
So far, Carl has completed Birmingham, Manchester, Edinburgh and Dundee and is now at work on Stirling.
As a child, he would find wrapping paper and draw on the back of the huge sheets, recording the sprawling fictional cities in his mind.
He goes on: "This fascination grew to countries and I wanted to know what other capital cities were like. Another thing I was curious about was buses and their routes. If I saw a bus, I wanted to know where it was going and what the route would look like."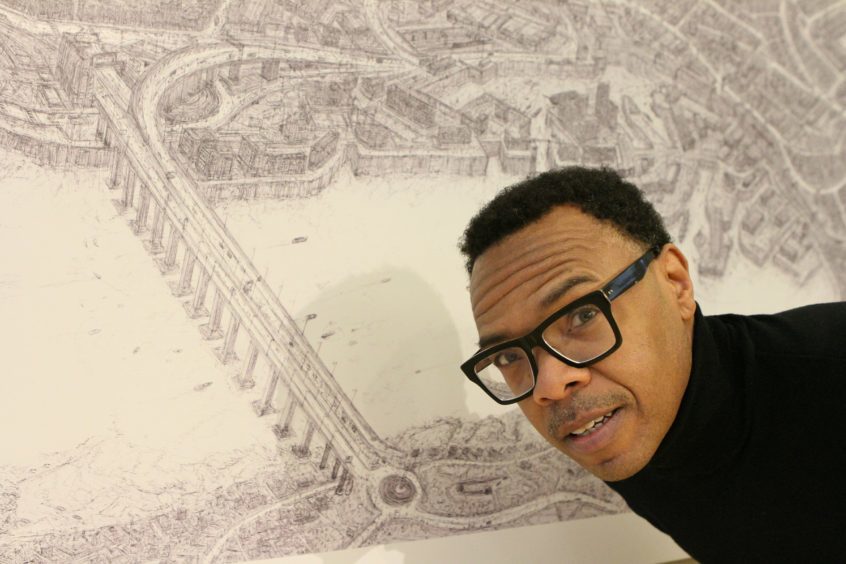 Carl's journey to becoming an artist was unconventional. He has no formal training and would obsessively sketch cities while at school or work. In his 20s, he contracted Guillain-Barre syndrome, – a condition that affects the nervous system and can leave sufferers paralysed – but made a miraculous recovery.
Following this, Carl, now aged 46, decided to take his passions more seriously, getting involved in the music industry and continuing to sketch. But, just like the roads in his mind, everything was inevitably leading to him doing something more with his art.
"I wanted to sketch a real city because I had been drawing fictional cities. I wanted to challenge myself to draw a city that I knew well," he says of Birmingham.
Carl spent three months visiting Dundee, doing preliminary sketches, jogging, traversing its streets and discovering its architecture. From memory, he then drew the city in instalments which were then stitched together to form the finished piece.
When the drawing went on display at McManus Galleries in February, it was announced it had been bought by local businessman Tony Banks. It has been well received by visitors to the museum – particularly locals – who have been treated to a new perspective of their city.
While Carl's dynamic drawing is an accurate record of the city's roads and buildings, it is not a scale map. The city is actually much broader – but he wanted to include Broughty Castle. He explains: "I think I've shrunk areas and maybe extended areas as well."
"I am sketching all the time and I am thinking of it constantly." Carl adds. "I try to capture the life of the city."
The large-scale sketch of Dundee is on display until August 2018.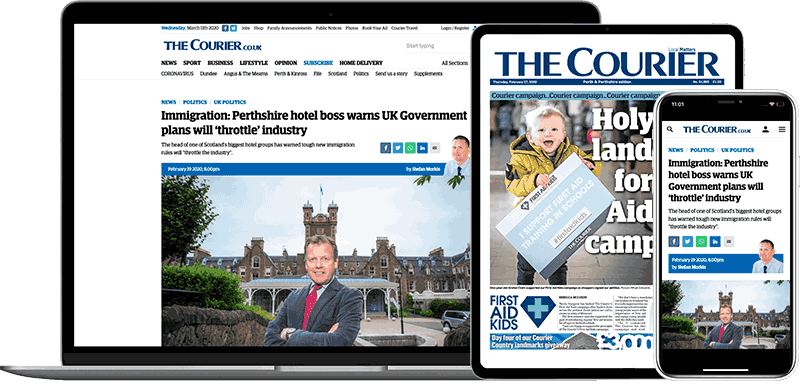 Help support quality local journalism … become a digital subscriber to The Courier
For as little as £5.99 a month you can access all of our content, including Premium articles.
Subscribe