Formula One legend Sir Jackie Stewart OBE has paid tribute to the friend who was the "best he ever raced against" at the official opening of the new Jim Clark motorsport museum.
Half a century after unveiling the original Jim Clark Rooms in the Fife-born star's adopted Borders home of Duns, Sir Jackie and fellow Scots race ace Allan McNish spoke of Clark's enduring legacy at the special event to mark the completion of a five-year, £1.6 million redevelopment of the attraction.
It charts the career of Clark, from his earliest days of competing behind the wheel to World Championship success in 1963 and then 1965, when he became the first and, so far, only driver to also win the legendary Indianapolis 500 race in the same season.
For the first time the museum can permanently display machinery including the famous Lotus cars which Clark raced.
Visitor numbers have exceeded expectations since the re-opening around six weeks ago, with almost 5,000 fans flocking from across the globe, and Sir Jackie said the museum was now a fitting tribute to the racing hero.
He spoke of his close friendship with Clark and the racing rivalry at events such as the 1965 Spa Grand Prix, Stewart's first F1 event at the fearsome circuit and a race in which the two Scots dominated the field in treacherous conditions.
"Jimmy was the best racing driver I ever raced against, I have always said that," said Sir Jackie.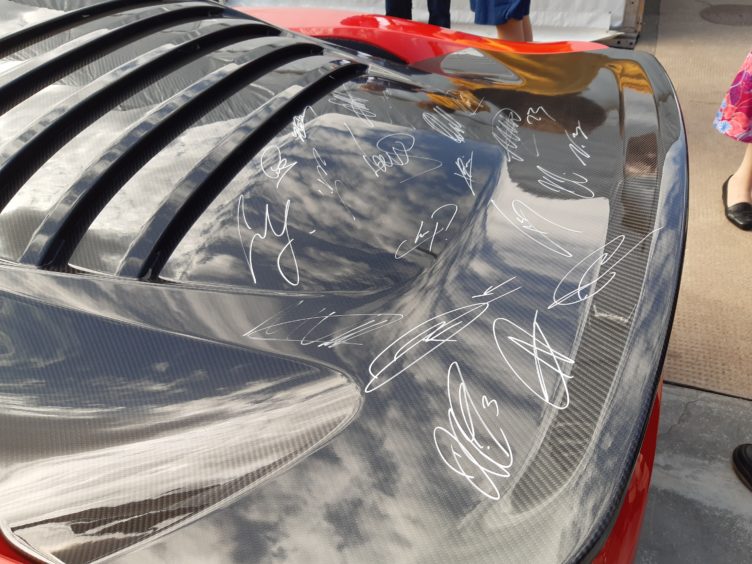 "We had a great life together and he was an enormous help to me and taught me so much about the business. The manner in which he drove racing cars was just different to everybody else."
He joked with the crowd about Clark's precision and decisiveness behind the wheel being in stark contrast to the Borders sheep farmer's inability to choose from a restaurant menu or select which movie to watch.
Sir Jackie, 80, also paid tribute to Clark's pioneering role in bringing motorsport to the masses during the dangerous era they competed in, transforming interest in what was a niche sport through his talent behind the wheel.
"Jimmy became a global person. Scotland's greatest export is our people, and Jimmy was part of that, taking motor racing to a new audience," said Stewart.
Figures from the world of motorsport at the event included Courier country stars Gordon Shedden, a three-time British Touring Car champion, and Robert Reid from Perthshire who was World Rally Champion in 2001.
Alongside Clark's Lotus 25 and Lotus Cortina, the centrepiece of the new museum is a collection of over 100 trophies from his remarkable career, tragically cut short in a race at Hockenheim in Germany in April 1968, aged just 32.
The museum project is a partnership between Scottish Borders Council, Live Borders and The Jim Clark Trust, with funding coming from a range of sources and donations from across the world.