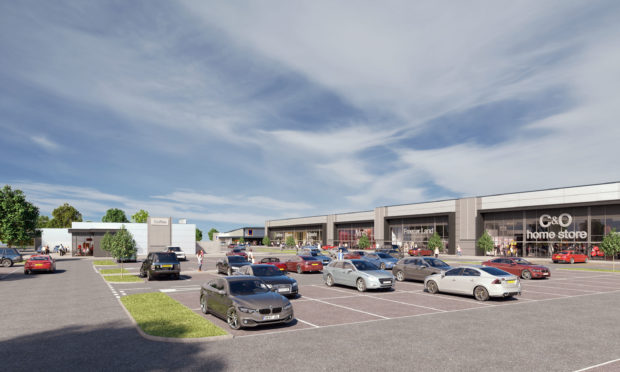 Hundreds of jobs and millions of pounds of investment are heading for Arbroath after councillors approved a controversial retail park next to the A92.
Councillors overturned objections from high street traders and official advice to refuse the application for the former metal box factory site on the entrance to the town.
Planners highlighted the loss of land to support alternative jobs, poor transport links for walkers and cyclists at the site and potential damage to an already "vulnerable" town centre.
A last-minute objection from active travel charity Sustrans – which is working on a £13 million plan to link the town's key attractions with walking and cycling paths – also failed to sway councillors, who voted 21 to 2 for an amendment granting planning permission.
Councillors will now look to agree a list of conditions on December 5.
Laura Conway, the businesswoman behind the development, expressed relief after the vote.
She said: "I'm passionate about business and I'm passionate about this development for the area.
"This is one of the most exciting projects to come to the town. If this didn't happen today then I don't think we would ever have seen it again."
The park, which will include Iceland, B&M, Costa and Burger King, among others, will be constructed on the former Presentation Products gateway site at the Elliot Industrial Estate off the A92 on the approach into the Angus town.
The project's backers say it will create the equivalent of 237 full time jobs and pumped £8.36 million into the economy.
The application ran into controversy after a number of high street stores and multinationals already present in Arbroath objected.
They expressed fears extra competition from the retail park would damage their businesses and turn Arbroath high street into "a ghost town".
Angus Council planning official Murray Agnew warned councillors the development was "significantly contrary to the development plan."
He said the site had been allocated for employment uses, such as a potential base for new manufacturing firms moving into the area or expanding.
He said the retail site was not easily accessible, except by car, and read aloud the entire Sustrans objection, which said any negative effect on the town centre could "undermine the success" of its "transformative project."
He also said the project's backers had likely underestimated the potential town centre impact.
Councillors heard several representations for and against the development, before agreeing the economic case was too strong to turn down.
Council leader David Fairweather, independent, who moved the amendment to approve the planning application, said: "Having read the report, all I'm thinking about here is what is not to like?"
He said he agreed the development could bring shoppers to Arbroath, including to the town centre, who may currently be travelling to Dundee.
"I am sure this will not affect our high street. I am sure it will help our high street," he added.