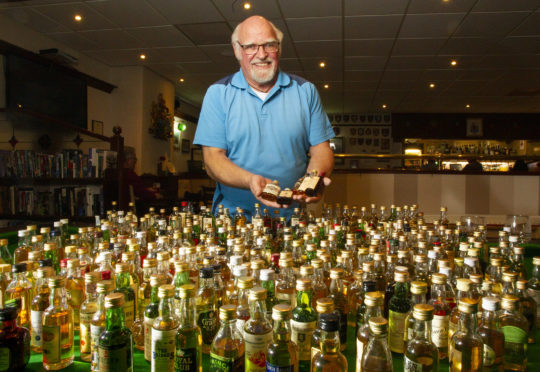 A unique collection of miniature whiskies is to be sold to raise money for good causes.
Carnoustie man Steve Horsfall is to give away his entire collection of 300 miniatures, which fills three boxes, from distilleries and producers that have long since gone out of business.
There are also interesting limited edition bottles to commemorate events such as world pipe band championships, the 13th Commonwealth Games in Edinburgh in 1986 and the 1990 Open Golf championship in St Andrews.
The 69-year-old retired former Army veteran has decided to donate the booty to the Carnoustie British Legion to be used in their work to support the local Carnoustie, Barry and Panbride communities.
Legion chairman Davie Paton said: "When Steve said he was thinking of donating some whisky to the Legion I thought he might be talking about a bottle of the good stuff as a Christmas raffle prize.
"What Steve actually meant was that he wanted to donate his entire collection of over 300 whisky miniatures which he had been given or collected over the years.
"It is clear that a proper valuation of Steve's wide-ranging collection is needed as it includes both blended and single malt whiskies.
"Steve has said that he would like any money raised by the sale of these miniatures to be used by the Legion in their work to support the local communities."
---

---
​
Among the more quirky examples in Mr Horsfall's collection is a bottle called Monster's Choice which is claimed to be the preferred tipple of the Loch Ness Monster.
Mr Horsfall said: "I really didn't know what to do with them as I thought of selling on eBay or at car boot sales but thought the better of it.
"I didn't want to save them as I've no room for any more collections and I was not going to drink them myself as I think my liver has suffered enough over the years.
"I took two to three dozen up to my workmates when I retired and handed them out and have also drunk a couple of them myself.
"I met Davie and I mentioned the miniatures and he said to bring them up and let the Legion auction them off for funds and here we are.
"I have been a member of the Legion for many years and I wish them all the best and do hope they can do something with the miniatures."
The Legion now intends to bring in a whisky expert to value the collection before putting them under the hammer.