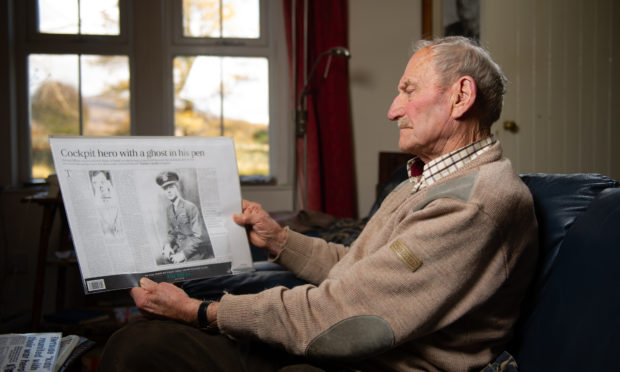 Retired farmer Angus Davidson will be the first to tell you he has led a charmed life.
The 88-year-old is one of the last residents in Glen Esk to remember the summer of 1940 when the air roared with the sound of Spitfire engines.
Then aged nine, Angus was one of a group of local lads who formed a friendship with fighter pilots from 603 Squadron, then stationed at the Montrose Aerodrome.
The names of Gerald 'Stapme' Stapleton, Ronald 'Ras' Berry and Richard Hillary, who went on to write about Angus and his friends in his book The Last Enemy, are fixed in his mind, along with vivid early memories of dashing young pilots and fighter planes flying low over the Angus hillsides.
It was the beginning of a lifelong passion for the former sheep farmer from Tarfside. Angus's living room at East Migvie is filled with air force memorabilia, including a newspaper cutting of a search and rescue helicopter parked on his front lawn.
Next to the clippings lies a framed print of an F111 tactical fighter. The attached message from then US air force Colonel Graham E Shirley states: "Dear Angus, hope the noise doesn't rattle the wife's china too much."
For Angus, it all started in the July of 1940 when Lord Dalhousie offered his lodge at Invermark to the celebrated group of fighter pilots.
Angus, a son of a Dykeneuk joiner, was at the Tarfside Highland Games when two strangers caught his eye.
"We did not know who they were, but the organisers were making a great fuss of them."
They were pilots Gerald Stapleton and Robin 'Bubble' McGregor Waterston.
"The tall one tried to toss the caber," said Angus.
"He had never done it before of course and let the caber go back over his shoulder and he had to jump from beneath it, much to the glee of the spectators."
The pilots struck up a friendship with the local lads while relaxing at the lodge.
"It was such a delight to have them. The aircraft would fly round nearly every day. It was a wonderful thing."
He said there were high jinks at ground level too, including one particularly lively game of hide and seek.
"There was a shed door and Stapme hid behind this door and my aunt came in from milking the cow.
"He was over six-foot tall and he leapt out on her and she let out a great scream and spilt the milk. He apologised and dashed off. She laughed about that story till her dying day."
He said Robin Waterston would pick the bark off trees and carve small sailing boats with his pen knife. "Of course, we all had to have a pen knife too. The carvings were beautiful things about three inches long."
Those holiday days in July were a few light moments in the Glen during a gloomy time, with the pilots soon leaving to fight in the second part of the Battle of Britain.
Hillary was shot down in September that year, surviving the experience but receiving horrendous burns to his hands and face, before dying in a training flight crash in 1943.
South African Gerald Stapleton – with his trademark handlebar moustache – survived the war and returned to Glen Esk in 1996 when he was reunited with Angus and another of the lads, Eric Rogers.
Speaking at the time, the pilot said: "My main memories are of the children at Tarfside. Two or three of us used to go up there for a few days. We used to try and out-do each other with our story telling and they got more outrageous each time. I was surprised and very pleased when Angus got in touch."
Angus's path crossed with the air force again in 1981 when a training exercise went awry close to his Glen Esk home and he and his late wife Ruth invited the crew into their home.
Helicopters returned in 1996 when two of the aircraft alarmed local walkers with an irregular landing so the crew could partake in a "spot of Glen Esk hospitality" at the Davidson home.
"They have my co-ordinates, they tell me," said Angus.
"I was out in the garden the other day and two men stopped on motorbikes. They took off their helmets and told me they were from RAF Lakenheath. They were on a motorbike tour of Scotland."
Now a sprightly 88, Angus shows no signs of slowing down and still keeps his eyes peeled for signs of aircraft powering through the Angus glen where he has spent his entire life.
"I'm just a farmer, but I get such a thrill," he says.
"There is only Angus Davidson and her majesty who get a fly by. There is nobody else gets that – to see them flying up the glen and to know they were coming to see me."
The flying aces of No 603 (City of Edinburgh) squadron
Based at RAF Montrose until August 1940, the pilots and fighter aces of No 603 (City of Edinburgh) squadron would play a celebrated role during World War Two.
Richard Hillary's book The Last Enemy – as well as recording his memories of Angus and the other Tarfside children – went on to detail his first engagements with the Luftwaffe, shooting down at least five of its fighter planes in his first week alone.
Hillary's luck was not to last. A Messerschmitt Bf 109 shot him down only weeks later in September of that year. He escaped with his life, but only after suffering agonising burns while trying to escape his blazing Spitfire.
After undergoing a large number of operations he managed to talk himself back into the cockpit, only to die in a training flight crash in 1943, his wrecked Bristol Blenheim bomber coming to rest in a field in Berwickshire.
Air Commodore Ronald 'Ras' Berry fared better, living to 83-years-of-age. Berry was with 603 Squadron when they were ordered south from Montrose and plunged into the second part of the Battle of Britain.
The fighter ace distinguished himself immediately, reportedly shooting down three enemy fighters in one day and winning the Distinguished Flying Cross (DFC)
He retired in 1969 to live quietly and care for his wife at Hornsea on the east Yorkshire coast before passing away in 2000.
South African Gerald 'Stapme' Stapleton would see out the war in the same fashion as his colleague Berry, also winning a DFC and plaudits for his prowess in the deadly Spitfire fighter he loved so much.
The flying ace would prove no stranger to Scotland, returning for his reunion with Angus in 1996 and again in 2002 when he was guest of honour at RAF Leuchars Battle of Britain dinner.
He died in 2010 at 89 years of age.