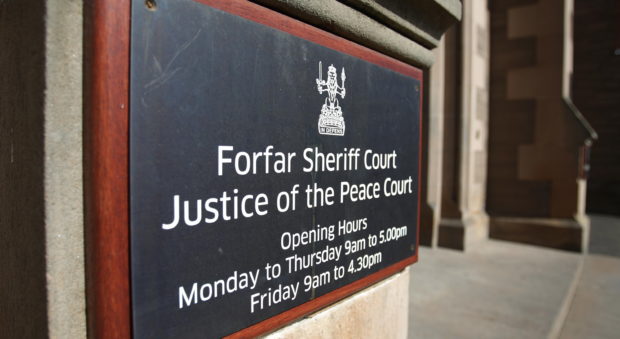 A prolific Angus domestic abuser has avoided going to jail for breaking a non-harrassment order against his ex after prison records revealed she had repeatedly visited him behind bars.
Kevin McCallum was spotted by friends of his former girlfriend staring up at her flat just yards away from Forfar Sheriff Court in September.
The 32-year-old, once described by a sheriff of posing a risk to any female he comes into contact with, has served a string of jail terms for offences including attacking and stalking former partners.
McCallum, of Strathmore Avenue, Forfar admitted breaching the NHO in the 10pm offence after his lawyer said he had "taken fright" over the return of keys and a phone.
Sentencing in the case had been deferred for investigation of the claim the victim had visited McCallum in jail and depute fiscal Jill Drummond said visiting logs from Perth prison showed she had been there on five occasions in November 2018.
"Police spoke to the complainer and she said she had visited to drop off items but had never physically seen him," the fiscal added.
"She did appear genuine and said there was no ongoing relationship."
Defence solicitor Nick Markowski said McCallum had been released in February from a 220-day prison term and he maintained he was visited by the woman during that time.
"In any event, he was clearly the subject of a non-harrassment order and it is equally clear he breached it."
Sheriff Alison McKay told McCallum: "You must know that with your record any offending puts you at risk of going back to custody.
"Given confirmation of the visits while in custody, I can deal with this by way of a community-based disposal, but only on the basis I will impose all the options available to me."
The accused was placed on a four-month tagging order confining him to his home between 7pm and 7am daily, placed on a 24-month community payback order and required to complete 100 hours unpaid work in six month.
The non-harrassment order will also remain in place for another year.
McCallum previously served almost three years behind bars for a string of verbal and physical assaults on former partners over eight years.
In one incident he left dents in a wall after battering his girlfriend's head against it.