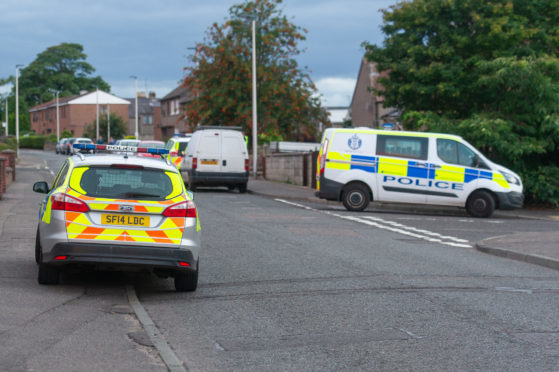 A group will be sentenced next month after admitting a Forfar street breach of the peace during a so-called sting operation by paedophile vigilantes.
The masked three men and a woman were part of a group which descended on Forfar's Old Halkerton Road in August last year to confront an alleged sex offender.
The incident involving members of the Wolf Pack Hunters UK group triggered a major police operation, lasting hours.
A total of six people initially faced charges in connection with the incident.
At Forfar Sheriff Court on Monday, Gordon Buchan, 39, and Jay Buchan, 18, both of Glenfinnan Road, Glasgow, along with Karen Ferry, 48, of Lilac Avenue, Dalkeith, and Marcin Kuciak, 38, of Easter Drylaw Place, Edinburgh, all pled guilty to a charge of breach of the peace, committed on August 15.
They admitted attending the street as a group, behaving in an offensive manner, presenting banners and, with hoods over the heads and faces masked, shouting, swearing and making offensive remarks while broadcasting their behaviour live on social media.
Allegations of throwing stones, brandishing a building block and making death threats were removed from the charges before a plea was accepted by the Crown.
Two other accused, Karl Day, 30, of Barrie Court, Livingston, and Ann Hughes, 62, of Drimmin Road, Stepp,s were allowed to leave the dock after having not guilty pleas accepted.
The Old Halkerton Road incident happened just before 8pm when a group appeared at a property there and began remonstrating with a man and others in the house.
They were eventually escorted from the street at around 11pm and police maintained an overnight presence at the property.
A video of the Forfar incident on the Wolf Pack Hunters UK Facebook site was viewed more than 25,000 times before being taken down.
On the site the group say they are "a community response to the epidemic of grooming in Great Britain."
A full narration of the offence will be given to the court following the preparation of criminal justice reports on all four accused
Sheriff Gregor Murray said: "There is a public interest element to this."
The group will return for sentencing on December 10.