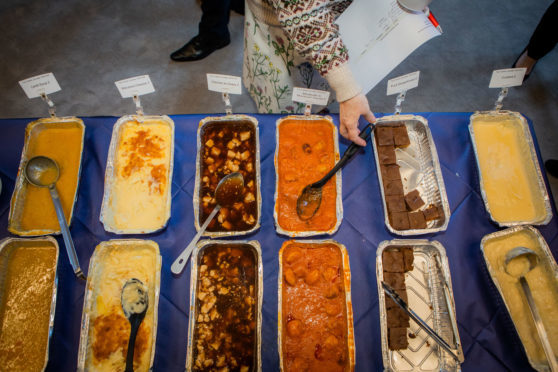 A trade union has hit out at the plans to introduce frozen meals to schools in Dundee and Angus.
Dundee City and Angus councils approved plans for school meals to be prepared at Tayside Contracts' Tay Cuisine Industrial kitchen before being blast frozen and taken to distribution hubs and then transported to schools.
Perth and Kinross Council backed out of the cross-council arrangement over fears for job losses in rural Perthshire.
More than 3,000 people signed a petition against the proposals in Perth after estimates suggested up to 50 catering jobs would be cut.
Now GMB Scotland, which represents school catering staff, has condemned local authorities in Dundee and Angus for not following in Perth's footsteps amid fears the scheme would "undermine the quality" of food in Tayside schools.
Deputy First Minister and Perthshire North MSP John Swinney raised similar concerns in the Scottish Parliament earlier this year.
But officials in Dundee and Angus say they must push ahead with the deal as the authorities will need to provide an additional 1.2 million meals per year due to an increase in early years education and childcare provision.
It is expected that Dundee City Council will rake in £442,000 in savings from the two-tier meal programme, while Angus Council will save £107,000.
Meanwhile backing out of the deal means Perth and Kinross Council could be forced to make £426,000 of cuts to education services.
GMB organiser Helen Meldrum said: "The future of school meals and the staff who deliver them is really a question of whether Tayside's politicians are prepared to stand up for their communities in a time of austerity.
"If frozen food isn't good enough for school children in Perthshire, and John Swinney is right to say that it isn't, then why should it be any different for kids in Dundee and Angus? And if a frozen food assembly line isn't good enough for schools in Perth and Kinross then why should it be any different for staff in Dundee and Angus?
"Quite rightly, the Deputy First Minister weighed-in hard to defend the interests of kids and staff in his own back yard – why can't the politicians in Dundee and Angus do likewise?
"The choice between fresh or frozen food for our kids and kitchens or assembly lines for our staff shouldn't be up for debate and quite frankly politicians in Dundee and Angus need to follow Mr Swinney's lead and make clear that this isn't on."
Dundee City Council and Angus Council said they will "proceed with the implementation of a cook-freeze centralised meal facility" at Tay Cuisine in order to deliver school meals.