IN FULL: Freedom bid by Steven Donaldson killers fails on same day accomplice found dead in prison cell
Killers Tasmin Glass and Callum Davidson had bids for early freedom rejected on the day evil accomplice Steven Dickie was found dead in his prison cell.
Glass and Davidson failed to convince appeal court judges their respective 10-year culpable homicide and 24-year murder prison terms imposed for the killing of Arbroath oil worker Steven Donaldson were excessive.
Glass lured her ex-boyfriend to a Kirriemuir playpark in June 2018 before the murderous attack launched by new lover Dickie and his best pal, which culminated in him being "cut down without mercy" at Kinnordy Loch near the town.
QCs argued the sentences imposed by trial judge Lord Pentland following a five-week trial were excessive.
Mr Donaldson's spinal cord was severed twice in a barbaric attack by Davidson and Dickie at Kinnordy Loch after he had been lured to Kirriemuir's Peter Pan playpark by Glass to discuss their failing relationship.
Shocked RSPB staff made the horrific discovery of Mr Donaldson's mutilated body underneath his burnt out BMW just before 5am on June 7 last year.
The heavy bladed weapon which inflicted the fatal blows has never been found.
Glass's legal counsel, Gordon Jackson QC argued it was "perverse" to believe his client would not have been convicted of murder by the jury if they had believed she had knowledge of a machete or similar instrument which the jury was asked to believe had been collected by the two men at Davidson's Ford truck in Kirriemuir while she drove them to Kirrie Hill for the rendezvous with Mr Donaldson.
He said his client had been aware of the fact a baseball bat had been collected, but added : "It is the plural of weapons I take exception to."
Mr Jackson said: "It is impossible, given the direction they were given, to see any basis on how they (the jury) could be satisfied on the weapons that were fatal and not be convicted of murder, it would be perverse.
"There is no basis to conclude she knew about the weapons other than the baseball bat, and nothing the trial judge's report gives us a basis for that," he said.
He said there had been no basis in evidence for Glass being aware of the sort of assault that took place which finally ended Mr Donaldson's life, suggesting the "chilling coolness" for which she was condemned by the trial judge was set against the background of what Lord Pentland branded a "barbaric attack" in the which the victim had been "cut down without mercy".
Glass, Mr Jackson said, was "quite immature" and had poor financial management skills.
"She had no delinquent behaviour before and no previous convictions," he said.
"It is more than a sentence of ten years because she was remanded in custody for a period of eight months prior to being liberated on bail.
"When one looks at the whole circumstances it is excessive, standing her involvement in the matter."
Brian McConnachie QC, for Davidson, said: "While by no means a youth, he is still a relatively young man and his position can be contrasted with someone of older years who is unable to learn from their experiences.
The callous killer had been condemned by the trial judge for showing a "callous disregard" for Steven Donaldson's family.
Mr McConnachie said: "Mr Davidson gave evidence to a particular version of events, a version it is accepted was rejected by the jury."
"His submission is that they (the family) had said nothing about him, and he had nothing to say about them. In reality he did not want to enflame matters," added the QC.
"There seems little doubt that irrespective of the fact he denied his involvement, he did understand the appalling nature of the crime so far as the family of Mr Donaldson was concerned.
Mr McConnachie said it was accepted the murder had "significant aggravating characteristics" which put it into the higher category of such crimes.
"There was a degree of planning, but it was a matter which developed and developed very quickly and so did not have the significant degree of pre-meditation."
Lord Brodie, who heard the appeals with Lord Drummond Young and Lord Turnbull said written reasons for their rejection would be issued at a later date.
Steven Donaldson's family welcomed the appeal judges' ruling.
"We are happy with the outcome and glad that there will be no change to the time they will both spend in prison," said Mr Donaldson's sister, Lori.
Steven Dickie found dead in cell
It comes as the body of brutal murderer Steven Dickie was found in his cell at Perth prison on Friday morning.
Dickie, 24, from Kirriemuir, was sentenced to 23 years for the murder of Steven Donaldson.
Tyre-fitter Dickie was Tasmin Glass's lover at the time of the killing which has become one of the most infamous chapters in Angus criminal history.
In the witness box at the High Court, in Edinburgh Dickie claimed he knew nothing about Mr Donaldson before the fateful night in June 2018 and said he had gone back to Callum Davidson's flat in Kirriemuir to watch television and drink beer after seeing his co-accused drive off in the Arbroath man's sporty BMW.
Fellow murderer Davidson told the trial it was Dickie who launched a frenzied attack with a knife through the window of their victim's car as he sat at Kirriemuir's Peter Pan playpark for a rendezvous with Glass.
He described Dickie as "crazed".
"It was Steven standing in front of me but it wasn't Steven looking at me. He didn't care I was there and he didn't care what he had done," said Davidson.
Best pal Dickie then ordered him to drive the victim's car to Kinnordy Loch where the sustained fatal attack happened, he claimed.
Dickie's death is not believed to be suspicious and has been reported to the procurator fiscal.
A fatal accident inquiry is expected to be held in due course.
Steven Donaldson's family were at court in Edinburgh for the sentence appeals of the other two killers when news broke of the prison cell discovery.
Mr Donaldson's sister, Lori, said: "We have no comment to make on the matter and it doesn't make any difference to us as a family."
Timeline
June 7 2018, 5.40am – RSPB staff arriving for a wildlife survey at Kinnordy Loch, west of Kirriemuir, make the horrific discovery of Steven Donaldson's mutilated and charred corpse beneath his burnt-out BMW car.
June 14 2018 – Steven Dickie, Callum Davidson and Tasmin Glass are arrested for the murder of 19-year-old Glass's former boyfriend Mr Donaldson. They appear in private at Forfar Sheriff Court a few days later and deny a charge of murder.
April 1 2019 – The trial of Dickie, Davidson and Glass, all from Kirriemuir, begins before Lord Pentland and a jury of eight men and seven women at the High Court in Edinburgh. The evidence is so harrowing a member of the jury collapses when images of the deceased's body are shown to the court.
May 3 2019 – Following nine hours of deliberation, the jury return majority murder verdicts against both Dickie and Davidson and a unanimous culpable homicide verdict against Glass.
May 30 2019 – Lord Pentland imposes sentences of 23 and 24 years respectively on Dickie and Davidson for the "cold-blooded" murder of Steven Donaldson. "Manipulative and devious" Glass is ordered to spend 10 years behind bars.
July 20 2019 – In a remarkable show of community support for the Donaldson family, hundreds of motorcyclists from across Scotland take part in a ride from Arbroath to Kinnordy.
November 15 2019 – A panel of three senior judges at the court of criminal appeal in Edinburgh reject challenges by counsel for Glass and Davidson that their sentences were "excessive". As the appeals are being heard, it emerges fellow killer Steven Dickie has been found dead in his cell in Perth prison.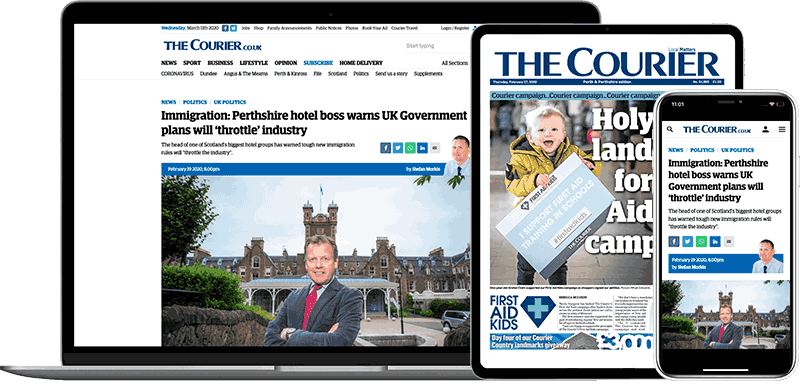 Help support quality local journalism … become a digital subscriber to The Courier
For as little as £5.99 a month you can access all of our content, including Premium articles.
Subscribe