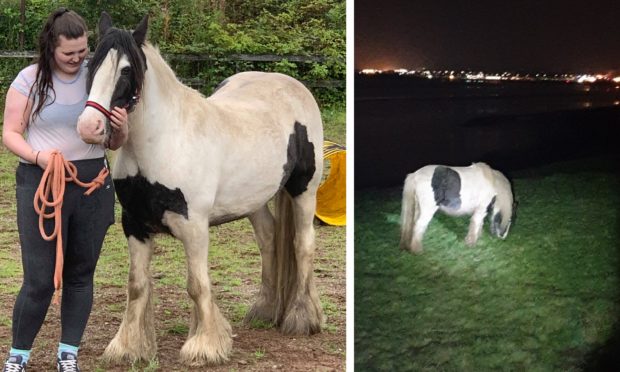 The owner of a runaway horse has praised police for saving it from a busy Tayside road.
Horse-wrangling officers saddled up after four-year-old Bob escaped from his field and was found running around on the A92 Stonehaven to Dundee road at the Ferryden Roundabout just south of Montrose, at around 4am on Thursday.
Police managed to round him up and put him safely in a field at Rossie Braes near to Montrose Basin.
Owner Rachel Willett from Montrose was traced following an appeal from officers to collect the "bonny wee long haired white-and-tan horsey".
She said: "Bob means everything to me and I'm so relieved he's been found safely," said Rachel.
"I used to ride when I was seven. I've only just got back into riding and I've had Bob since June this year.
"He's the first horse I've owned after years of looking after others. He's the most beautiful and gentle horse and wouldn't hurt a fly. He just loves being cuddled and getting treats."
Rachel said Bob normally stays in a field at the back of Ferryden.
She is at a loss as to how he escaped but has pledged to do all she can to find out.
"I can't believe where he ended up. I'm not too sure what has happened with him escaping because he's never done anything like this before.
"He's normally fine as long as he has grass to eat and I will need to check with the field to see what happened.
"I am just so grateful that the police found him and that nothing happened to him as he means the world to me with being my first horse."
"He's been through a lot with his history and I just want to make every time he has the best. I can't thank the officers enough for finding him before he got hurt."
A Police Scotland spokesman said: "This bonny wee long haired white-and-tan horsey was found running around on the A92 at the Ferryden roundabout, just south of Montrose, about 4am.
"Our officers managed to place it safely in a field at Rossie Braes near to the Basin Wildlife Centre.
"The pony has now been reunited with its owner. Thanks to everyone who retweeted and shared the appeal. We're sure Bob and his owner are very grateful."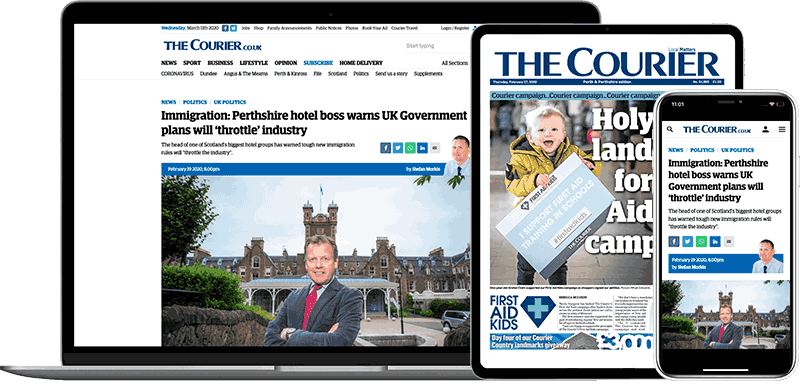 Help support quality local journalism … become a digital subscriber to The Courier
For as little as £5.99 a month you can access all of our content, including Premium articles.
Subscribe