VIDEO: Kirriemuir trio perform their own rhyme about Peter Pan in poetry project
Kirrie folk have been turning life in the "wee red toon" into verse and rhyme for a century or more.
Now, it is the turn of the town's primary pupils, who have captured life in the Gateway to Glens with a wry eye and memorable turn of phrase.
Fake news, anti-social behaviour, hoodies and the legacy of the Angus town's most famous sons – Peter Pan creator JM Barrie and AC/DC singer Bon Scott – all loom large in the children's work.
Writer Ewan McVicar and traditional singer Christine Kydd came up with the idea as part of the Looking Behind Our Doors local history project in 2018.
The amusing new pieces have been written to accompany 100-year old rhymes from the town's past.
"One of the project's two themes focused on the rhymes of Kirrie," said Ewan.
"Not just the old ones of 100 years ago that I had managed to find in print, or even those that adults and young people recall now, but new ones."
Christine said they took the project to two Kirrie primary schools, Southmuir and Northmuir, and worked with classes to shape brand new rhymes for Kirrie town and its people.
"One hundred years ago Kirrie author Alan Reid and his wife contributed their memories of Kirrie and Forfarshire rhymes to be published by the Edinburgh-based Rymour Club," she said.
"We also wanted to see what would happen when we asked our young people to see what they could come up with."
Southmuir pupils Oscar Gray, Thomas Watson and Maia McGregor wrote a rhyme called Peter Pan's Flute.
Maia said: "The project was really exciting. Initially if was challenging to get our ideas into words that rhymed."
Oscar said they managed to complete the rhyme after encouragement from their teacher. "We all enjoyed singing the rhyme in class," he added.
"This project encouraged us to work together as a team," said Thomas.
Aside from the rhymes, local historians joined a host of other volunteers to dig through the town's papers to produce three print booklets and two websites filled with local history – www.kirriewords.webs.com and www.talesothetoon1.com
The new rhymes were put together with older pieces, as remembered by the users of the dementia-friendly community hub Kirrie Connections.
The full project launched at an event at the hub on Friday.
Manager Graham Galloway said: "Our members who are living with dementia have a wealth of knowledge about the town, and it has been great to see them actively involved in something that has really brought history to life."
NORTHMUIR RHYME
Yesterday I saw people with hoods
Causing mischief while going down the Roods
Cramming in the Co-op, shop-lifting all their food
Now I know not to trust people with hoods.
KIRRIE TOWN DRUMMER
Drummer Scott o Kirrie, he used to shout the news
Was it fake? Make no mistake, every word was true
'Forfar folk are coming, to our wee red toon
Are they coming for Bon Scott? We will find out soon'
[Scott, Kylee,Tyler]
PETER PAN'S FLUTE [Ally Bally]
Peter Pan plays his flute
Where's he playin? There's nae doobt
In the Square in Kirriemuir
Can we hear it in Westmuir?
Yes we can… There's nae doubt
Loud and clear for all to hear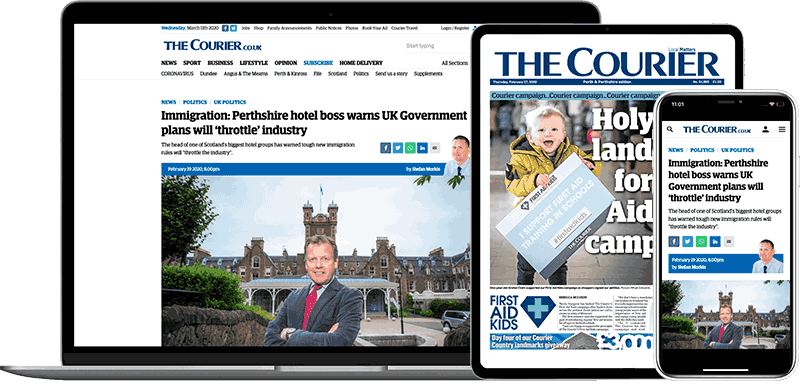 Help support quality local journalism … become a digital subscriber to The Courier
For as little as £5.99 a month you can access all of our content, including Premium articles.
Subscribe