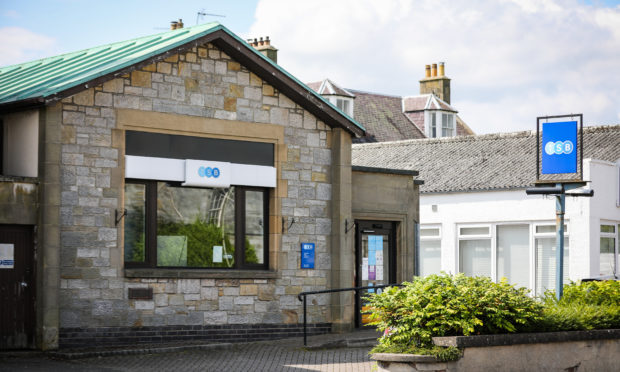 Two Tayside banks have been earmarked for closure as TSB announces major financial cutbacks.
The banking firm is to slash its Scottish presence, with 17 branches scheduled to close in 2020.
Kinross' branch will close in May next year and the Brechin bank will shut in July. Exact dates are still being decided by the company.
The Kinross branch's opening hours dropped to just six hours a week at the end of July this year, and management advised residents to make the 16-mile round trip to Cowdenbeath if they needed to use the service on days other than Tuesday.
The Brechin counter was also open just six hours a week on Thursdays and account holders will now need to make the 17-mile round trip to Montrose to access the service.
Every effort is being made to redeploy staff at nearby branches, say management.
Age Scotland is among those which say the elderly will be hit hardest by the closure decisions.
Adam Stachura, the charity's head of policy, said: "At a recent meeting with TSB, we were assured us that their plan to reduce operating hours at some branches was not a prelude to closing them.
"It is extremely disappointing to see a closure programme announced. This is another slap in the face to loyal bank customers, especially those who are older, disabled, or don't have internet access."
The firm stress that with 134 branches remaining in Scotland, 65% of UK residents will live within four miles of a TSB branch.
TSB's Tayside and Fife area director Carol Stalker said: "Customer usage of our Brechin branch has been decreasing. The average TSB branch sees 34,000 transactions each year but at Brechin there were fewer than 10,000 transactions in the last 12 months and customer transactions have dropped by 9% in the last three years."
Mid Scotland and Fife MSP Liz Smith described the closure as a "hammer blow" to elderly residents without access to banking technology.
She said: ""I feel the writing was on the wall with the Kinross branch of the TSB when it reduced its opening hours in July.
"The closure of the bank will be a big loss to the people of Kinross."
Citizen's Advice Scotland have labelled the decision "devastating".
The organisation's financial health spokesperson Myles Fitt said: "This is devastating for those who are losing their jobs but it's also another blow for consumers who need access to local banking.
"We're concerned about the impact of on-going bank closures on the most vulnerable in our society."