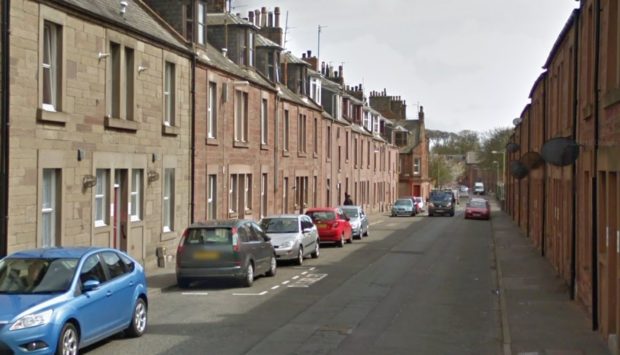 An Angus neighbour row knifeman has been put on a six-month electronic tag after a dispute over a noisy dog hit its peak.
Dale Leith had gone out to challenge his downstairs neighbour in Arbroath's Leonard Street in the latest of a string of fall-outs but police were called after the handle of a blade was seen poking out of his trouser pocket.
The 44-year-old was barely over the threshold of his own property when the October offence happened, but was told by a sheriff he could easily have been jailed for the crime.
Leith, of Hill Place, Arbroath appeared for sentence before Sheriff Gregor Murray at Forfar after admitting possessing an offensive weapon in Leonard Street, Arbroath on October 29 and breaching the peace.
Depute fiscal Jill Drummond told the court there had been several incidents between the accused and his neighbour over a period of around two months.
"The witnesses were in their home and heard shouting but could not make out what was being said," Ms Drummond told the court.
They went out of their flat and at the top of the stairwell saw Leith staring back, with his fists clenched by his side.
He continued to shout and was then seen to move his hand towards his trouser pocket.
"They asked him if he was in possession of anything and saw a black handle and a small part of a knife blade," said the fiscal.
Leith went back into his own property and the witnesses heard an object being dropped.
Police were called and the accused voluntarily handed over a knife and knife-sharpener.
Defence solicitor Grant Bruce said: "The issues related to a dog running around the flat.
"He had made complaints to his neighbours, but also the council.
"Some of the discussions involved asking if they would invest in a carpet to cut the noise down and he offered to pay for that," added Mr Bruce.
"He regrets his actions. He is staying with his mother but is keen to return to his own property."
Sheriff Murray told Leith that someone convicted of such an offence would normally expect to be facing a prison sentence.
"In this case I would highlight the relevance of three particular factors," said the sheriff.
"Firstly you had a knife in a public place, but only just. Secondly, it occurred in the context of a neighbour dispute and, thirdly, you have no analogous previous convictions.
"In those circumstances I am persuaded, just, that this can be dealt with by an alternative to custody."
Leith will be confined to his home between 7pm and 7am daily under the restriction of liberty order.