VIDEO: Tayside and Fife musicians praised for role in global peace project
The founder of a global initiative which promotes peace and cooperation through music has commended musicians across Tayside and Fife for their role in the scheme.
Professor Neil McLennan from Aberdeen University founded the iPlay4Peace movement for the 100th anniversary of First World War armistice in 2018 and musicians from 45 locations across the world made a symbolic gesture of goodwill and reconciliation.
This year saw the figure increase to 47 locations including Japan, Russia and Germany, playing up to three specially-composed pieces, one of which, Good Friday Agreement, was written by St Andrews born musician, Clare Paddi Salters.
Ms Salters helped to deliver and implement the 1998 Good Friday Agreement, a crucial development in the Northern Ireland peace process.
The project is especially poignant for musician Sandy Coffin, who travelled from America to play in Fife with the Tullis Russell Mills Band.
Ms Coffin played 'Taps'  at the funerals of a number of New York firefighters who fell in the line of duty as the result of the 9/11 attacks on the Twin Towers in 2001.
She said: "I was asked to play at some of the funerals because the official Fire Department of New York bugler was overwhelmed.
"It is always an honour and privilege to play Taps for someone who has given their life in the call of duty but I was especially honoured to be able to help make sure that each firefighter was given a proper service.
"Playing Taps is a solemn responsibility – a farewell to the fallen, a poignant moment for the witnesses and especially for the families.
"IPlay4peace embodies the feelings I had after 9/11 – that we must do everything we can to prevent the spread of violence and to promote peace among all nations – a bit of a daunting task with the world's political arena today but perhaps all the more important because of it."
The project founder, Neil McLennan said he was delighted to see the event grow and paid tribute to those who took part.
He said: "Again, this year we have seen musicians across the world commentate the First World War and unite in a symbolic gesture of international cooperation.
"From Asia to America, Shetland to South Africa, Dundee to Durres in Albania, Fife to France people took part via the universal language of music."
Other Scottish locations involved included Perth, Dunfermline, Markinch and Cowdenbeath.
Plans are already under way to hold the event again in 2020.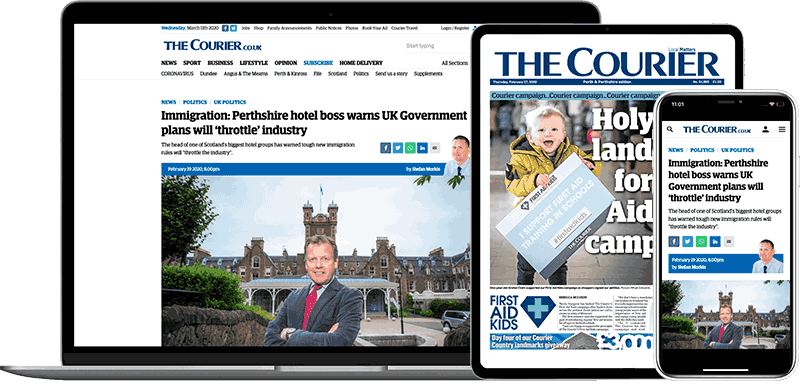 Help support quality local journalism … become a digital subscriber to The Courier
For as little as £5.99 a month you can access all of our content, including Premium articles.
Subscribe