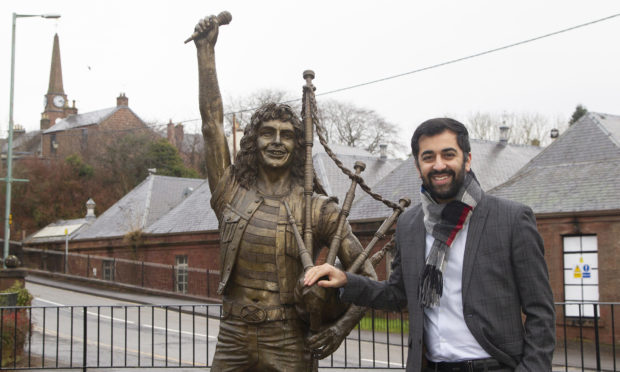 Voters in Kirriemuir were met by SNP Justice Secretary Humza Yousaf on the campaign trail on Monday, following a visit by Tory grandee Michael Gove.
The Angus constituency is gearing up for a close fight between the Conservative candidate Kirstene Hair and SNP nominee Dave Doogan, with both parties sending front bench and senior ministers to the area in the last few weeks.
Mr Gove and Mr Yousaf's visits follow interventions by First Minister Nicola Sturgeon, depute first minister John Sweeney, former Prime Minister Theresa May and former Scottish Conservative leader Ruth Davidson.
According to a poll by YouGov last week, the SNP and Conservatives are in a two-horse race with the Conservatives narrowly ahead by only 1.68 percentage points.
Both the Lib Dems and Labour are currently polling at below 10% each.
Mr Yousaf met members of the Angus SNP team in the Bon Scott car park before knocking doors in Kirriemuir.
He said: "Our local teams are the core, brain and hub of the campaign. Of course senior members of the party want to lend a hand where we can but they are doing the hard work and the graft.
"This seat is absolutely for the taking, it is going to be a tough contest, there is no easy shortcut to win elections but the team are doing everything they can locally to get Dave and the SNP's message out and it is clearly resonating.
"Our message is simple, if you want to escape Brexit and you want to determine your own future then the only way to do that is to vote SNP.
"I would ask the people of Kirriemuir and Angus, what have you got from your Conservative MP over the last two years?
"I would think the answer was pretty obvious, they have had someone who has just toed the Tory line, often against what her constituents have asked her to do.
"Every local authority in the country voted remain and time and time again Kirstene has voted against the wishes of her constituents.
"I would ask local people if you want someone to stand up for you locally and what you have made clear are your priorities then it has to be a vote for Dave."
Mr Gove met Conservative candidate Kirstene Hair on Sunday, when he offered his full support.
He said: "I am in Angus to support Kirstene, who has been an absolutely brilliant MP and highly effective for her constituents.
"Thanks to her, we have been able to stop the SNP tax hikes on our armed forces personnel and and she was instrumental in implementing the seasonal workers scheme, which is highly important to Angus soft fruit farms."