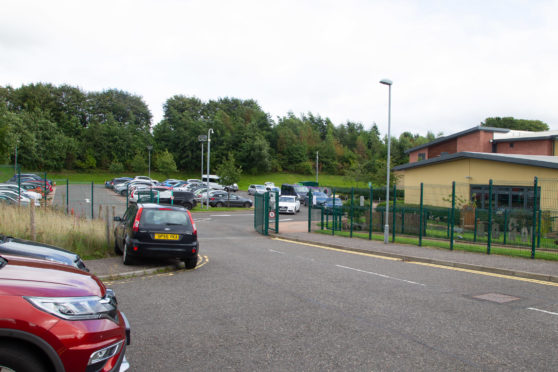 An Angus primary is bidding to make a peak-time parking ban permanent after a successful trial clampdown on inconsiderate drivers at the school gates.
In a first for the area, Forfar's Whitehills Primary shut the gates at drop-off and pick-up times due to fears for the safety of youngsters at the school.
Double-parked cars, reversing vehicles and drivers delaying in drop-off areas were all flagged up as risks to pupils before the ban was brought in.
The head teacher wrote to parents urging them to think about the potential danger they were creating and the move won widespread approval from the school's parent partnership and local councillors.
The parent body has now lodged a planning application to keep the ban in place on a permanent basis.
The area's education convener has said the move could now be considered by other Angus schools where parking problems are a regular concern.
Arbroath Conservative councillor Derek Wann said: "The trial closure of the school gates at Whitehills Primary School started on September 2, initially for a four-week period, and was instigated at the request of the Whitehills Parent Partnership.
"The trial was extended after the October holidays to allow more time for assessment. As a result of that trial, the parent partnership has now lodged a request for this to be made permanent.
"This request is now a live planning application which is currently open for consultation and it will be considered by the planning committee in the new year."
The convener added: "The situation at Whitehills Primary School is unique to that school's layout.
"However, if a further request came from parents regarding another school, the council would consider it on a case by case basis."
He stressed that there was plenty that parents could do to keep children safe before it got to the stage of official bans.
"Unfortunately we do see some really dangerous parking behaviours around most of our schools and obviously our primary concern is always the safety of children," said Mr Wann.
"I would encourage all parents to think carefully about their journey to school.
"If they must use a car, I would encourage them to consider parking further away from the gates and walking the last part of the journey.
"This is healthier and safer for children and can be a great way to start their day," he said.