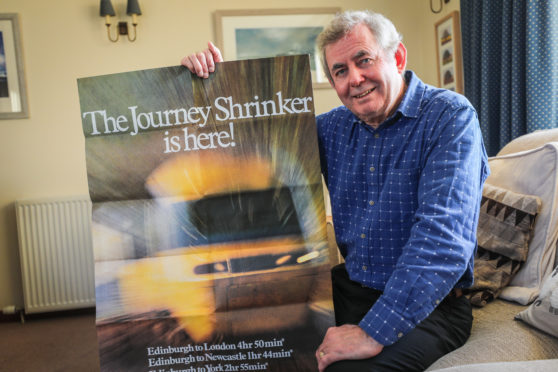 An Angus man has recalled the historic journey he made on the iconic InterCity 125 to mark the end of a rail era.
Former journalist Ian Lamb travelled on the first day of the new Dundee-London service on October 2 1978 which proved an instant hit with the British public.
The 70s-era InterCity 125 has just embarked on a farewell UK tour to mark its retirement from front line services on the East Coast Main Line after being replaced by world-class Azuma trains.
Mr Lamb said: "I could hardly believe my luck when, at the beginning of October 1978, the chance of a train trip to London from Arbroath came my way as a local news reporter.
"It was to mark the introduction of the new InterCity 125 trains, also known as the High Speed Train, north of Edinburgh.
"I was chief reporter for The Courier in Arbroath at the time, and my enthusiasm for trains went back almost as far as I could remember. In my job, trains were still important.
"These were pre-computer days and our typewritten stories for the next day's paper were sealed in a special envelope and taken across the road from the Keptie Street office to the railway station to be despatched by train to Dundee.
"The big railway story of the time had been the introduction of British Rail's most modern passenger train — the 125 service — between Edinburgh and London in May that year. Now, the service was being extended to run between Aberdeen and Kings Cross."
Mr Lamb said the retirement of the 125 to be replaced by the Azuma fleet was "not quite as dramatic a change as the revolutionary 1960s one from steam to diesel" but marked "the end of an era nonetheless".
He said: "I remember the first impression of luxury and style as I joined the group in a first class coach on the maiden voyage.
"There was air conditioned heating on a train, luxurious wide seats and the now familiar but then new layout of tables for four on one side and two on the other.
"There even curtains on the windows. All coaches had automatically operated doors, an impressive innovation for luggage laden passengers.
"But probably most impressive was how smoothly the train pulled out of the station and, later, came to a stop.
"No jerking caused by loose coupled locomotives and carriages on the fully integrated 125. Jerking became gliding.
"At that time, the 125 represented ground breaking luxury train travel."
Tayside rail enthusiast John Ruddy said the diesel train proved an immediate hit with passengers, first in the west country and then on the East Coast route to Edinburgh and Aberdeen.
He said: "After 40 years of front line service, screaming up and down the East Coast Main line at 125mph, many of these trains are now going into well-deserved retirement, being refurbished for secondary work in Scotland and the West Country.
"So while it is farewell, passengers will still be able to experience their comfort – albeit without being able to pull down the window and let the wind blow in their faces!"