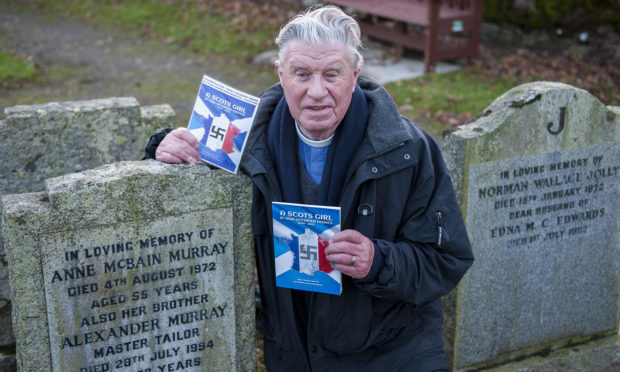 Memoirs of a Mearns lass in Nazi-occupied France have been revealed for the first time in a new book which hopes to unlock more secrets of her fascinating story.
Having lain untouched for decades among kirk records from the parish around her home village of Drumlithie, the story of Ann McBain Murray has now been published by the locum minister who uncovered the account and felt it deserved to be shared with a wider audience.
The Rev Douglas Lamb also hopes the book will help unearth a photograph of the girl who penned the wartime work and is laid to rest close to her parents in the kirkyard at Glenbervie.
Known as Nan, she left the east coast community to broaden her horizons and work as an au pair in France, before finding herself effectively trapped in the country following the outbreak of war.
Mr Lamb, whose career in the ministry has taken him from the USA to Shetland before latterly working part-time in Angus and the Mearns said: "I was involved in getting some of the Glenbervie church records sent to Edinburgh for safe keeping.
"By chance, or maybe providence, I came across this typescript document entitled 'A Scottish Girl's Experience in Occupied France'.
"I picked it up and could scarcely put it down," he added.
"It was a fascinating and easy read – interesting and at times exciting – characterised by occasional real fear and danger and also by considerable warmth and even humour."
Nan returned to Scotland following the war to work in the kindergarten department of St Margaret's School for Girls in Aberdeen, where she later became department head.
Her time away from the Mearns, before her death at the age of 55 in 1972, has left gaps in Nan's life story which Mr Lamb hopes to piece together.
"Sadly, without more research we do not know much more about Nan, largely because the generation that really knew her is now gone," he said.
"Nan was the only daughter of Alexander Murray, the local tailor, and his wife, Flora Craigon. For many years her father was the session clerk at Glenbervie and his wife had a close family connection with the local hotel and farm in the village, so in their day they were very much at the centre of local life.
"She is interred with a brother, Alexander, close to her parents in Glenbervie, but I haven't been able to source a photograph of her and hopefully one may exist," added Douglas.
"In her quiet way she was a bit of a heroine, so I am happy to be telling her story through the publication of her memoirs.
"It seems appropriate that as the 75th anniversary of the end of World War II approaches that they have now been published."
The book is available locally, with proceeds from it going to Glenbervie kirk.