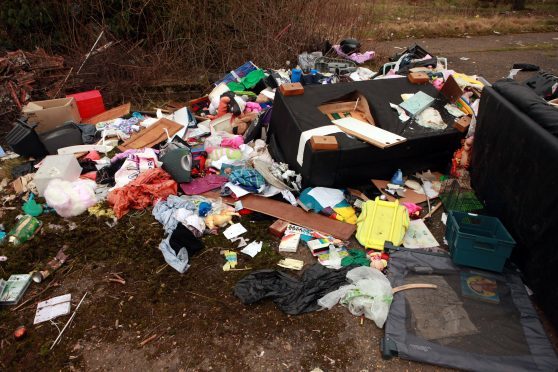 Dundee and Angus fly-tippers are dodging the courts with not a single person reported to police for illegal dumping in the past two years.
Despite a maximum available punishment of a £40,000 fine for criminal cases, the neighbour authorities issued only 50 fixed penalty notices between them during 2019.
The scale of the problem and lack of action has been branded "extremely disappointing" and prompted calls for a tougher clampdown against offenders.
Freedom of Information data revealed Dundee City Council issued 41 fixed penalty notices (FPNs) in 2019, despite dealing with more than 2,000 fly-tipping incidents.
In Angus, just nine £200 notices were dished out in relation to 355 incidents reported by the end of October.
The previous year Dundee handed out 53 FPNs from more than 2,450 reports, while in Angus 11 were issued after 381 reported incidents.
Both councils confirmed no one had been reported to Police Scotland for fly-tipping in either of the two years.
Rural Angus and its Sidlaws border with Dundee are regular fly-tipping hotspots, with farmers forced to pick up the clean-up tab.
In one high profile incident this year a farmer turned detective to track down a kitchen which had been dumped in a field on his land near Forfar.
Norman Ogg found the ripped-out units and flooring matched the kitchen of a house recently sold through a Tayside property website and was critical of Angus Council for failing to pursue the crime.
Large piles of rubbish have been left at sites across Angus over the course of the year, including at St Vigeans, Liff, and Montreathmont, as well as at Birkhill Cemetery earlier this month. Two doors were reported dumped near the Stannergate roundabout in Dundee on Boxing Day.
Shadow rural economy secretary and North East Conservative MSP Peter Chapman said the authorities were not being tough enough.
"Councils are having to spend millions of pounds to clean up the mess yet those who are dumping it are getting away with it," he said.
"The workers who are tasked with cleaning the mess are often taken away from other duties they could be doing for the council.
"It's disappointing to see no one has been reported to the police over the matter and until tougher penalties are imposed, fly-tipping will continue to be a massive problem in the region."
Angus Council said officials needed information and evidence if they were to pursue investigations.
A spokesman said: "If you see evidence of fly-tipping, please take a note of what you have seen – that can be the location and a description of what has been dumped. If you actually saw fly-tipping as it happened, then please try to make a note of the vehicle involved and, if possible its registration number.
"We investigate and dispose of fly-tipping on council ground. Where items are fly-tipped on private ground we carry out inquiries to try to find the culprits, but the landowner is responsible for clearing away the fly-tipping."
A Dundee City Council spokesperson said: "The council has robust procedures to try to deter this selfish and dishonest activity including issuing a fixed penalty notice or reporting culprits to the Procurator Fiscal who has the power to fine up to £40,000."