Twins Joe and Bob retire after 35-year career at counter of popular Angus chip shop
Tayside twins have hung up their aprons after more than three decades at the fryer of one of the area's favourite fish and chip shops.
Chipper chaps Joe and Bob Giacchetto have served up suppers to generations of customers at the Seaway in Monifieth and were inundated by wellwishers on their final stint in the shop on Sunday night.
As they approach their 55th birthday, the popular pair said they felt the time was right to retire, but the family name will remain on the lips of chippie fans through a Cupar outlet run by their two other brothers.
Joe and Bob's move to set up the shop some 35 years ago continued a family tradition started by their father, who ran a fish and chip shop in Tayport for around two decades.
Joe said: "Like many, he started off with an ice cream van before opening the chipper in Tayport and I started off with him.
"My brother was a chef at the Seymour Hotel in Newport so we decided to follow in the family tradition and set up the Seaway.
"It's not a job to us, it's been our life, but it's 11 and a half hour days and we felt the time was right to retire and take things a little easier.
"The customers have been fantastic and many have become friends as well as customers.
"We've seen generations growing up and now they bring their families in with them. We often joke with mums and dads that we'll tell their children what they got up to when they used to come into the shop.
"There has been so much change – when we first started we had the gaming machines in the shop with ashtrays on the top."
However, the brothers say the one constant through their time in business has been the undiminished appetite for a good fish supper.
"Fish and white pudding suppers remain as popular as ever," Joe said.
"We still fry in beef dripping and have good local suppliers – consistency is what customers want."
New owner Callan Bruce is taking over the business and the brothers said they were delighted to see the Seaway staying in local hands.
The family men might now find time to pay brothers Tony and Luigi a visit at the busy Libo's fish and chip shop they have run in Cupar for almost three decades.
And the twins also revealed their quest to land top quality fish is not over.
"We are both keen fly fishermen but the demands of the business meant we didn't get a lot of time to go to places like Rescobie Loch, near Forfar so hopefully we can get back there more often," said Joe.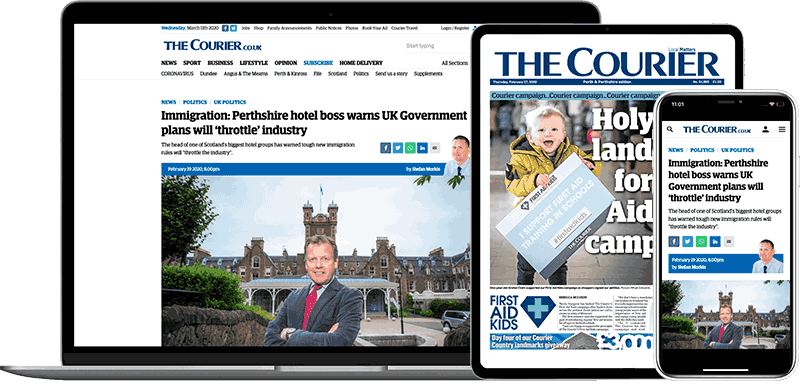 Help support quality local journalism … become a digital subscriber to The Courier
For as little as £5.99 a month you can access all of our content, including Premium articles.
Subscribe