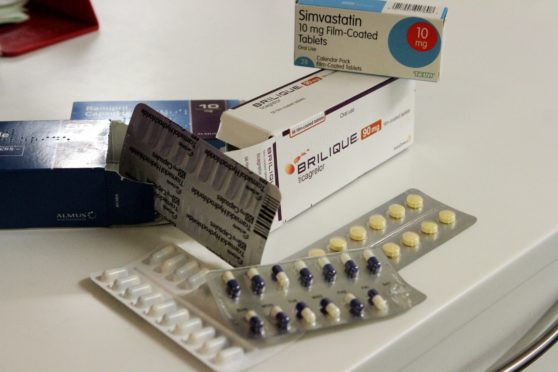 Angus is maintaining its downward trend as it battles to shake off the area's reputation as the prescribing sick man of Scotland.
Prescribing costs per patient in the rural county have halved two years after shock figures showed they were running at more than 14% above the Scottish average.
The success of wide-ranging initiatives has also delivered a healthier balance sheet, with the projected 2019/20 overspend shaved to £800,000 from a position of around £1.4 million the previous year.
In her final Angus Integration Joint Board meeting as chief officer of Angus Health and Social Care partnership prior to taking up the equivalent job in Dundee, Vicky Irons said a "steady and sustainable improvement is emerging."
"The Angus cost per waited patient continues to fall," she said.
"Previous spend within Angus was running 8-10% above the national average. The most recent data shows that this is now running 6-9% above the national average.
"This has been achieved by implementing both a regional prescribing work plan in addition to a targeted local approach that has focused on clinical engagement with individual practices supporting realistic medicine and alternatives to prescribing where that is clinically appropriate."
Ms Irons said the estimated Angus IJB 2019/20 overspend on core drug products was around £600,000 but a one-off accrual from the spring will take the figure to an overlying overspend around £200,000 higher.
Successful measures have included the setting up of a special Angus Prescribing Management Group (APMG) to target high-priority areas including baby milk, continence products and oral nutrition supplements.
The development of a holistic care approach for people living with diabetes is being piloted in north-east Angus and chronic pain is among the key areas of current focus.
It includes a drive to reduce the spend in Angus and the wider Tayside area on gabapentanoids and opiates, prescribing of which remains high in comparison to the national average.
The two main gabapentanoids – gabapentin and pregabalin – are widely used to treat epilepsy and neuropathic pain disorders but international research released earlier this year suggested a link to suicidal behaviour, violent crime and overdose-related deaths.
The Swedish study, detailed through the British Medical Journal, highlighted increased hazards for 15 to 24-year-olds and suggested a review of guidelines for their use in treatment of young people.
Experts have tackled what was described as a "pill for every ill" culture which contributed to the high Angus prescribing rate.
Previous reports  revealed a Tayside-wide figure of 80,000 people on five or more prescribed drugs, and 60,000 on 10 or more.