Angus dookers delight big crowds at Arbroath and Carnoustie
Carnoustie's 26th annual Dook delivered a turnout of around 100 brave dippers, cheered into the water by a big crowd beside Links House.
Organised by the town's rugby club, the event saw club president Colin Murray signal its traditional start by kicking a rugby ball into the water, with team winger Cory Thoms winning the dash to claim it for the second year in succession
The fancy dress prize was won by Sarah Gray, who was cartoon character Wilma Flintstone alongside husband Sandy as Fred. Several Santa Clauses and even a traffic cone took to the water.
And they're off! #Carnoustie Dook 2020. 👏👏 pic.twitter.com/EVG0RjD9YK

— Graham Brown (@C_GBrown1) January 1, 2020
In the battle to brave the chilly waters the longest, sisters Amelia, 11, and Ellie Peffers, 14, alongside their cousin Lois Young, 13, all from Carnoustie, stayed in the waves for a bone-chilling 26 minutes to claim the prize.
Arbroath also proved to be its traditionally popular spectacle as all ages plunged into the water beside the harbour for the Cancer Research UK fundraiser.
The afternoon event followed an early 2020 call-out for emergency personnel from both towns after the alarm was raised over a reported incident in the area of Arbroath cliffs.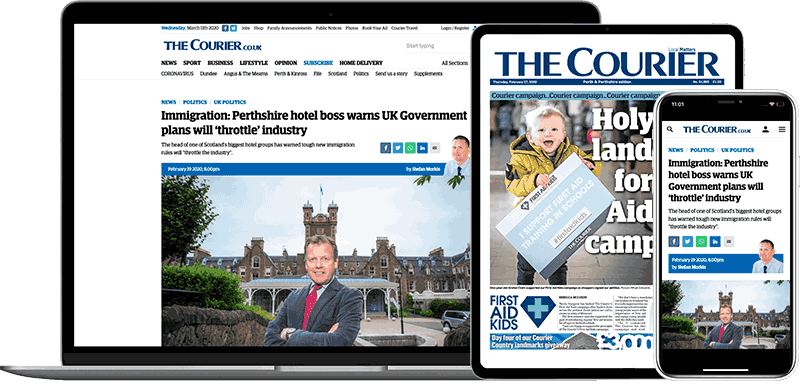 Help support quality local journalism … become a digital subscriber to The Courier
For as little as £5.99 a month you can access all of our content, including Premium articles.
Subscribe