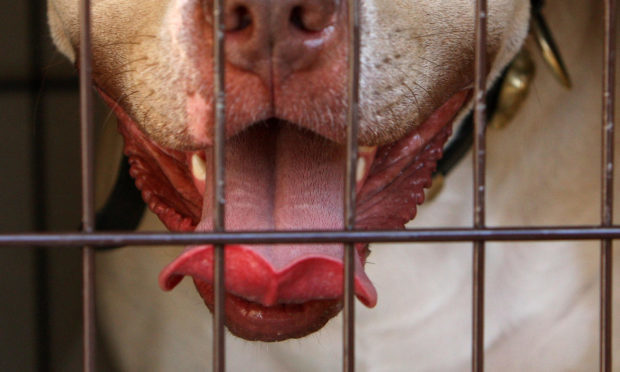 More than 100 court proceedings have been launched against the owners of controlled dog breeds in Tayside, Fife and Central courts since 2015, according to new figures.
Information obtained by the Scottish Conservatives also reveal 10 destruction orders were imposed over the same period, with another seven "contingent" orders handed down by sheriffs when they are satisfied the dog did not constitute a danger to public safety.
The Dangerous Dogs Act Act 1991 applies to four types of dogs which are illegal to own without an exemption from the court.
The outlawed breed are the the pit bull terrier, Japanese Tosa, Dogo Argentino, and Fila Brasileiro.
Across the Tayside, Central and Fife judiciary, destruction orders accounted for more than one fifth of the national figures -10 of 48, and 111 of 590 criminal cases.
Most cases were handled in Kirkcaldy (25), Dunfermline (16), Dundee (15), Perth (10) and Forfar (8).
Convictions were imposed in 49 of those 111 cases.
Last June, a Perthshire woman was banned from keeping dogs for a decade following an incident in which she stood by and watched as her Staffordshire bull terriers savaged a pensioner and his Labrador.
Mari Calikes, of Crieff wept as a sheriff issued an order for the destruction of her three pets after she was found guilty of being the owner of dangerous dogs involved in the attack in the town in November 2017.
Also last June, a Fife man was ordered to pay £1,000 to a girl who was 13 when his powerful American akita savaged her in her own garden.
The animal was also ordered to be destroyed after Brian Ralph was found guilty of the Dangerous Dogs Act offence at Kirkcaldy Sheriff Court.
In 2015, Kirriemuir man John Towns was jailed for a year and also banned from keeping dogs for a decade after his Staffordshire bull terrier seized a two-year-old visiting his home, leaving the toddler requiring facial surgery. The pet was also ordered to be put down.
Scottish Conservative MSP Liam Kerr was on a Holyrood scrutiny committee which looked at the Control of Dogs Act 2010, which is non-Scottish Government legislation that was introduced as a Members Bill.
It has been criticised for offering 'one free bite' and was branded "unfit for purpose" earlier this year.
North East Scotland MSP Mr Kerr said: "I heard harrowing evidence during our private sessions and in public at Holyrood. Much of it will stay with me.
"It was the committee's view there is a national crisis of safety for our children and citizens in general.
"We recommended the SNP government undertake a review of all dog control legislation.
"Demonstrably dangerous dogs are still on the streets."
A Scottish Government spokesperson said: "We want to help keep communities safe from irresponsible dog owners which is why we are already committed to a review of dog control law.
"While most dog owners are responsible and keep their dogs under control, the review is driven by the fact there is a small minority of dog owners who fail to do so and this puts communities at risk."