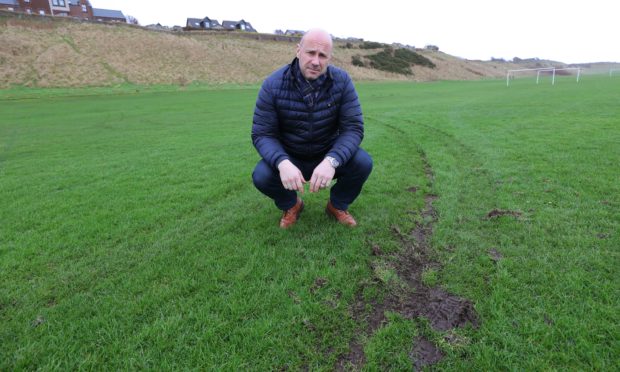 Boy racers have been slammed for churning up football pitches in Angus.
Long sweeping tyre tracks were left scored into the grass at Victoria Park in Arbroath by anti-social drivers, rendering parts of the surface unplayable.
It is the latest in a series of incidents at the Arbroath pitches, which are used for regular schools and boys clubs games, and follows similar vandal attacks elsewhere in the county.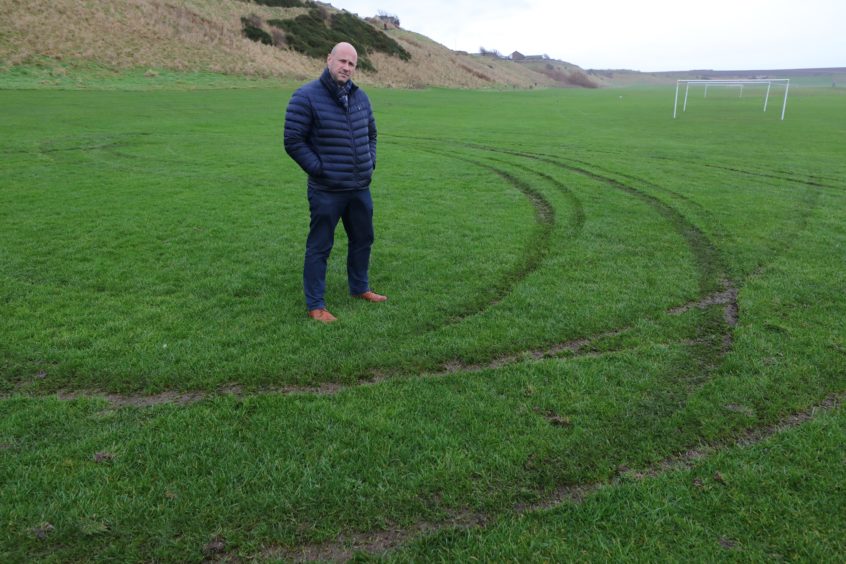 Derek Wann beside the 'churned up' football pitches at Victoria Park in Arbroath.
Arbroath East and Lunan Conservative councillor Derek Wann said: "I have seen the mess myself and unfortunately this happens every now and again.
"I would urge that drivers do not cut across the grass.
"It just spoils it for everyone and ultimately means more work for the parks department.
"The pitches are well-used and I have seen the same damage done in other parks in Arbroath."
Youngsters who use the pitches took to social media following the vandalism to hit out at the anti-social behaviour.
Football coaches who use the pitches to train their teams were also angry and upset that the stretch of land has been targeted again.
Arbroath East and Lunan Independent councillor Lois Speed condemned the vandalism and urged people to report the culprits.
"I can't comprehend why anyone would deliberately drive their vehicle so carelessly over public grassland," she said.
"This location is well used for leisure activity and facilitates vital club sports such as football where play space is often limited, especially at this time of year.
"The area serves a whole community and yet has been spoiled by a few moments of reckless behaviour.
"I would urge anyone who knows the people responsible to report them to the police."
Members of Arbroath Community Sports Club contacted police following an incident at its Hercules Den facilities last year.
Two goal nets were damaged after a gaping six-foot hole was cut by a pair of scissors. The damage would have cost the club £200 to put right but a club member came forward and offered to pay for the repairs.